The market for high-end Christmas trees is not as cheerful this year due to the economic downturn, with more consumers buying cheaper plastic trees to give their home a festive feel.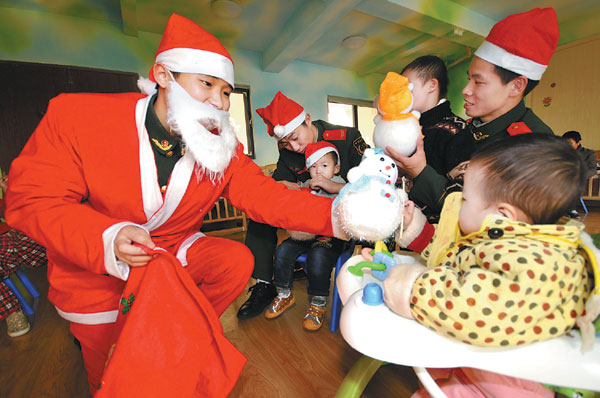 Soldiers don a different uniform as they bring joy to orphans in Taizhou, Zhejiang province, on Christmas Eve. Jia Ce/For China Daily
Almost all shop owners in Shanghai's Pudong Shuangji Flower Market said it has been tough going this year.
"Sales are much worse than last year, especially for the expensive trees," said shop owner Wang Linlin.
She had sold only two real fir trees.
"The economy is not too good, so many people cut spending on trees or decorations, which are not a necessity," she said.
Liu Jiuhong, another shop owner who sells Christmas trees, also said business is not as good as last year. He sold more than 80 trees this year, down from about 200 last year.
Unlike Western countries where natural evergreens are more common, real trees are not popular in Beijing.
"We have cut off our supply of real Christmas trees because of the weak demand from our company clients. They only order plastic ones," said the owner of Beijing Jingyuan Flower Company, surnamed Wang.
At the Liangmaqiao Flower Market in the embassy area in Beijing, only one of about 20 businesses sells real Christmas trees.
"Few people ask for a real tree. It's difficult to sell," said Zhang Zhengying, the only flower retailer selling real evergreens in the market.
To make them easier to be placed in plant pots, people cut off the bulk of the roots, which results in a lifespan of less than half a month. So it's hard for people to keep them as long as plastic ones, said Zhang.
She said the needles of real trees fall off easily and it's hard to keep a clean room once they are bought back home. That's another reason why people don't want a real tree.
These natural evergreens stand in rows at the courtyard in front of the market, exposed to the freezing cold in Beijing.
"My suppliers are from northeastern China. Tomorrow is Christmas, one evergreen of 1.5 meters high costs 450 yuan ($72) while the plastic one is only 100 yuan," said the shop owner on Monday.