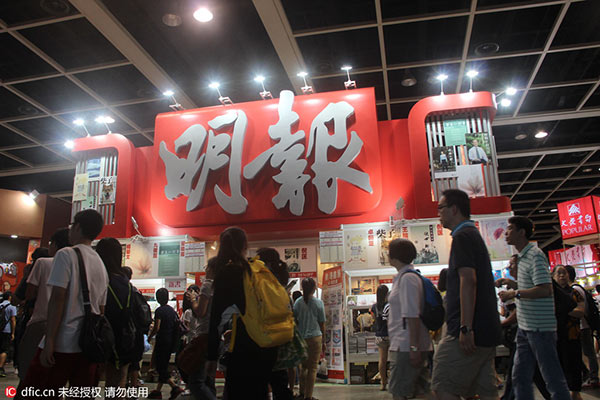 People visit the stand of Ming Pao during the 2015 Hong Kong Book Fair in Hong Kong, China, July 18 2015.[Photo/IC]
Qingdao West Coast Holdings buys the owner of Ming Pao Weekly for $64.2m
State-owned Qingdao West Coast Development Group Co Ltd has bought Media Chinese International Ltd's subsidiary, the owner of Ming Pao Weekly in Hong Kong, for HK$498 million ($64.2 million), in the latest step by mainland companies into the overseas media market.
Media Chinese International said on Monday in a statement that its subsidiary, One Media Group Ltd, sold 73.01 percent of its shares and media business including its Hong Kong publication, Ming Pao Weekly, and related digital business to Qingdao West Coast Holdings (International).
The company is the investment arm of Qingdao West Coast Development Group, set up in 2012 by the Qingdao government, with registered capital of 10 billion yuan.
It is in charge of the development and construction work of West Coast New Area, Qingdao's economic and technological development zone.
Shares of Media Chinese International, which resumed trading on Monday afternoon in Hong Kong, rose 14.05 percent to HK$1.38 at the close.
Media Chinese International, a leading Chinese language media platform, has five well-established Chinese language newspapers, including Ming Pao Daily News, one of the most influential and credible newspapers in Hong Kong.
Founded in November 1968 by Ming Pao Daily News, Ming Pao Weekly is a lifestyle and entertainment magazine targeted at middle-class readers in Hong Kong. It contents cover entertainment news, film, tourism, fashion trends and culture.
Ming Pao Weekly is also One Media Group's main turnover contributing business for the Hong Kong segment.
It's not the first time a mainland company has purchased a Hong Kong media group.
Last December, internet giant Alibaba Group Holding Ltd spent HK$2.06 billion to acquire the media assets of SCMP Group, including the South China Morning Post.
Hong Kong-based analysts said it is probably another step in Alibaba's quest to build a media empire.
"It is a trend for mainland companies to invest in the Hong Kong media industry," said Victor Fung Keung, principal lecturer at the Communication School of Hong Kong Baptist University.
"In the next 10 years, 80 percent of local media will be supported by capital from the mainland," he said.
"It is a win-win deal," he explained, saying that mainland companies can learn how to operate offshore media, preparing them for the further acquisition of media companies in other places.