Manufacturers target domestic market for holiday business
Sluggish orders for Christmas products from overseas buyers have forced a growing number of Chinese manufacturers to focus on the domestic market, which is showing an increasing demand of products for the festive season.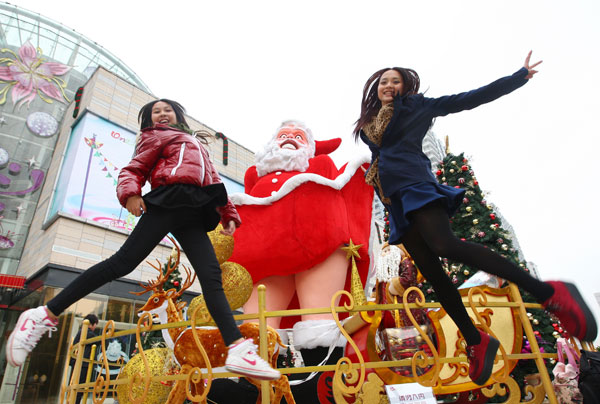 Two women jump in front of a statue of Santa Claus, whose outfit parodies a classic Marilyn Monroe pose, in Dongguan, Guangdong province, on Dec 20, 2012. [Chen Fan / For China Daily]
Hao Litong, a sales manager at King Tree Handicrafts Co, said that the company's sales of Christmas products on the Chinese market increased 30 percent year-on-year to about 2 million yuan ($321,000) this year.
The company, which is based in Shenzhen, in the Pearl River Delta region, started making Christmas trees in the late 1980s and rakes in about $20 million a year. The United States market makes up about 70 percent of the seasonal demand for its trees, with European buyers taking up most of the rest, Hao said.
"Unlike some companies who only rely on exports, our business in the overseas market remained stable this year due to our products' established reputation. But the Chinese people's increasing willingness to celebrate Christmas is making us pay more attention to the domestic market," Hao said.
"This year, particularly, the Christmas atmosphere in China is getting stronger," she said, adding that Chinese buyers are interested in high-quality Christmas products.
"In previous years, they were only buying Christmas trees. But now you see that they buy more decorations for the trees. Christmas products are gradually being accepted by Chinese people," Hao said.
The company started targeting Chinese consumers seriously in 2010. Most of the trees it sells in China go to hotels and shopping malls that celebrate Christmas.
"So we bulk up on the designs, lights and decorations for these clients," Hao said.
Overseas demand slowed down this year.
"Many companies from Europe and the US, which are traditional target markets for us, have reduced their orders. Some have even given up buying Christmas products this year," said Hao.
Lin Wei, general manager of Shantou-based toymaker Big Tree Toys, said demand in major markets in the US and Europe has dropped significantly, but new demand from the domestic market and South American markets has increased.
"In the past, Chinese people thought that the significant periods to give gifts were Children's Day on June 1, the summer holidays and Spring Festival. But Christmas is also becoming widely celebrated at home. So we cannot give up on the domestic market," Lin said.