The government of Shandong province is investigating chicken farms following accusations of illegal use of antibiotics and hormones there, the province's food safety office said.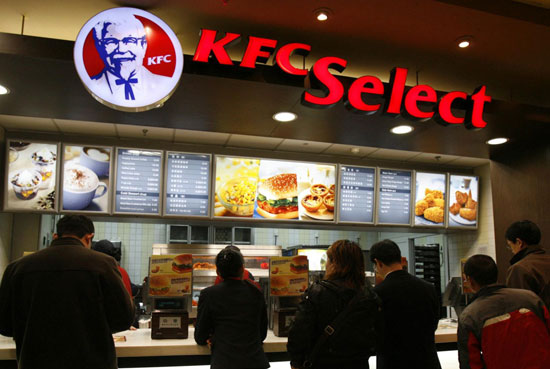 Customers wait for their orders at a KFC outlet in Beijing, in this file picture taken April 2, 2007. [Photo / Agencies]
The action came after China Central Television reported on Tuesday that several Shandong chicken farms feed chicken antibiotics and hormones every day to reduce their death rate and shorten their growing period.
The report also said some chickens were fed antibiotics two days before slaughter. Regulations stipulate that chickens must not be given antibiotics in the week before slaughter so that it will not remain in their systems.
Two such farms in Gaomi and Pingdu sold their chickens to a slaughterhouse in Pingdu, which belongs to Liuhe Group, the company that provided chicken to the China division of Yum Brands in Shanghai, which owns the KFC fast-food chain. The logistics center of Yum then delivered the chicken to its fast-food stores, including KFCs, the report said.
The owner of the farm in Gaomi told CCTV that the chickens have always been in inferior health because they have to reach full growth in about 40 days. "Their hearts, as small as the tip of the little finger, wear out from the speed," he said.
The chickens are fed large doses of antibiotics all the time, the manager said, because cutting it off would kill them immediately.
Hou Shuisheng, an animal nutrition professor with the Chinese Academy of Agricultural Sciences, said: "Hormones, most of the antibiotics and chemical compound medicines are banned from being fed to stock and poultry."
However, he said, chickens are continually fed antibiotics because many Chinese farmers don't have the money or want to spend the money to raise chickens in larger and cleaner pens.
Companies belonging to Liuhe Group faked feeding logs for chicken farms and issued quarantine qualifications without doing any tests, the CCTV report said.
Investigation into KFC's chicken:
Shanghai food watchdog checks KFC chicken samples
Suhai chicken sent to KFC passes national standard
Oil used in KFC:
Tests find oil used by KFC not harmful
KFC in China:
KFC vows to pursue expansion in smaller markets
Yum! opens 300th KFC restaurant in Beijing
KFC serves up a recipe for successful investment
Netizens down on KFC's denial of 'handsome deliveryman' service