World looking for leadership from both countries, says ambassador
Gary Locke, the US ambassador to China, has spoken optimistically about deepening ties between the two countries and insisted that despite their recent leadership transitions, there will be continuity in bilateral relations.
Speaking at a forum sponsored by the Asia Society in New York on Monday, Locke told his audience: "For quite some time, the leaders of both countries have been committed to greater engagement with each other.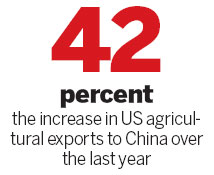 "They are really working very hard, developing a constructive, mutually beneficial relationship, one with cooperation.
"Our economies are so intertwined. The Chinese leaders know that, and American leaders know that, so we have to figure out how we get along, not because of our own self interests, but because the history of the Asia-Pacific region will be written by the US and China."
The former US commerce secretary and governor of Washington state, who assumed his current post 16 months ago, was speaking at a sold-out event in which he discussed the recent history of US-China ties with Orville Schell, director of the Asia Society's Center on US-China Relations.
The event was a precursor to the arrival of Vice-Premier Wang Qishan, who was due in Washington on Wednesday to open the 23rd session of the China-US Joint Commission on Commerce and Trade.
China is the second-largest export destination for the US and its top agricultural export destination.
US agricultural exports to China increased 42 percent over the last year. Exports of all goods and services have soared 50 percent over the last two years, doubling the increase in US exports to the rest of the world.
Figures show that a million US jobs now depend on goods and services exported to China, and millions of jobs in China depend on goods and services exported in the other direction.
Locke said many of the world's problems will only be solved by cooperation between the US and China.
"The entire world is looking for leadership from both China and the US, so we've got to get this relationship right," he added. "We are off to a good start."