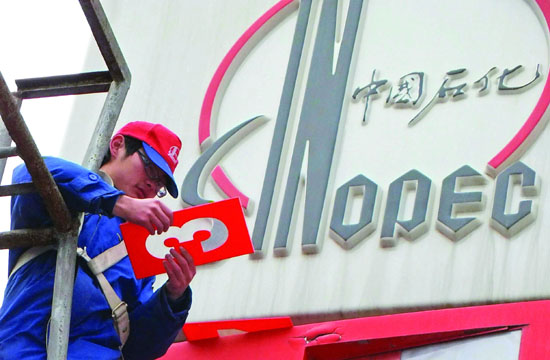 Workers update a sign displaying gasoline and diesel prices at a Sinopec gas station in Yichang, Hubei province. [Photo/China Daily] 
Deal gives energy giant 49% share in Canadian firm's UK subsidiary
China Petrochemical Corp, or Sinopec Group, said on Tuesday it had acquired a 49 percent stake in the UK subsidiary of the Canada-based Talisman Energy Inc for $1.5 billion, marking the first direct investment by a Chinese company in the North Sea.
The transaction came as the entry of China's largest refiner into the oil and gas business in the North Sea region and is also the largest UK-focused deal in the energy sector this year, according to Sinopec.
The company said the two parties will strengthen their cooperation to explore resource potential and accelerate the evaluation and commercial development of these assets.
"Sinopec is well positioned to increase the production capacity of the mature oil fields, while Talisman has ample project experience in the North Sea," the company said. "It will be a mutually beneficial cooperation."
Talisman's UK subsidiary is headquartered in Aberdeen, United Kingdom, and has interests in 51 North Sea oil and gas fields.
It has remaining proved plus probable reserves of 489 million barrels of oil equivalent, of which 95 percent is crude oil.
In 2011, the company's daily oil and gas output reached 71,000 barrels.
After the completion of the deal, Talisman will continue to hold 51 percent of the joint venture, but Talisman Energy UK Ltd will be renamed Talisman Sinopec Energy UK Ltd. Meanwhile, Sinopec will send employees to take part in the new company's management. Hal Kvisle Talisman President said the transaction supports a number of Talisman's key priorities and will give it the financial flexibility to invest in future opportunities.
The completion follows two big overseas acquisitions announced last week by fellow Chinese oil giant PetroChina Co Ltd.
PetroChina, the country's biggest oil producer, said it agreed to buy BHP Billiton Ltd's stake in a liquefied natural gas project in Australia for $1.63 billion on Dec 12, and joined the Canadian company Encana Corp to develop a shale gas project in Alberta at a price of $2.14 billion on Friday.
"The weak global economy has provided a good chance for Chinese companies in their overseas expansion in the energy sector," said Lin Boqiang, director of the Xiamen-based China Center for Energy Economic Research.
He said Sinopec's deal is indeed a breakthrough for a Chinese company in the North Sea.
The North Sea had a daily output of 2.7 million barrels of liquid fuel in October, according to the energy and commodities market agency Argus Media Ltd.
The area has had a total output of 40 billion barrels so far, and the potential remains to produce a further 14 billion to 24 billion barrels of oil equivalent over the next 30 years, according to Sinopec.
Lin said the deal can help Sinopec gain offshore oil exploration experience to improve the technology that can be used when the company returns to China's offshore oil exploration business, which is currently dominated by CNOOC Ltd.
China will import about 60 percent of the 500 million tons of oil it uses in 2013, government officials said at an industry conference last week.
Since China became a net importer of crude oil in 1993, it has gone from importing 6 percent of the oil it consumes to more than 50 percent in 2009.
The government is now encouraging Chinese companies to go overseas to seek energy resources to meet growing domestic demand.
dujuan@chinadaily.com.cn