An estimated 8,572 premature deaths occurred in four major Chinese cities this year due to high levels of PM2.5, a study has found.
The report also said severe air pollution in Shanghai, Guangzhou, Xi'an and Beijing has led to a total economic loss of 6.8 billion yuan ($1.09 billion).
The study released on Tuesday by Peking University's School of Public Health and Greenpeace looked at the health and economic impact of PM2.5, particulate matter smaller than 2.5 micrometers in diameter.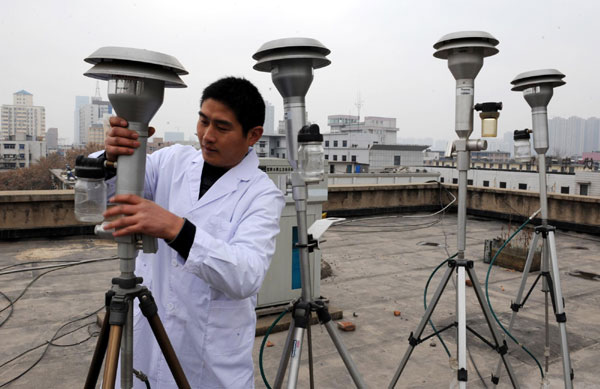 A worker with the Zhengzhou Environmental Protection Bureau in Zhengzhou, Henan province adjusts the equipment used to monitor the city's level of PM2.5 on Dec 18, 2012. [Photo/Xinhua]
Modern toxicology research has shown that exposure to PM2.5 can lead to significantly increased death rates due to cardiovascular, cerebrovascular and respiratory diseases, as well as increased cancer risk.
The study, the first of its kind, was based on available data and took into account varying conditions in the four cities, such as temperature and humidity.
In its conclusion, the report states that if the cities can effectively lower PM2.5 levels to meet the World Health Organization's Air Quality Guidelines — 10 micrograms per cubic meter — such deaths would be reduced by more than 80 percent.
Of the four cities, Shanghai had the highest amount of deaths, although its PM2.5 concentration is not the highest, the study found.
"The reason can be very complicated, but this phenomenon corresponds with research in other countries," said Pan Xiaochuan, a professor at the School of Public Health and lead author of the report.
"There are three main factors. First, Shanghai is the most populous city. Second, people from the south and the north have different sensitivities to pollution. Third, PM2.5 in different places has different components whose effects vary."
The methodology adopted by the study is a widely applied standardized method in epidemiological studies of air pollution, authors said.
"A mathematical model was developed based on PM2.5 laboratory monitoring values over the past three to four years in the four cities, as well as statistics from centers for disease control and prevention of deaths and their causes over the same period," said Li Guoxing, a lecturer at the School of Public Health and a co-author.