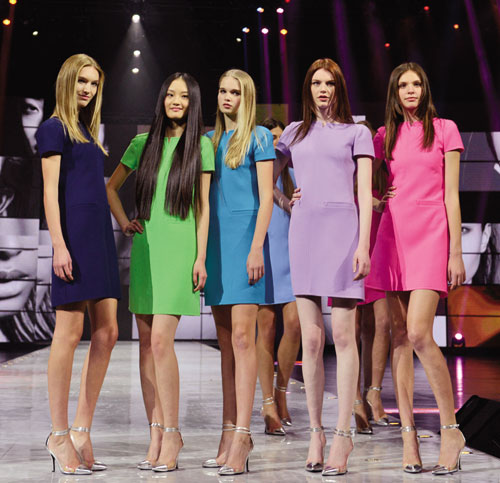 Winners at the Elite Model Look 29th World Final Shanghai 2012. Chinese models are becoming increasingly popular at home and abroad. [Provided to China Daily] 
It may be some time before the catwalks of Shanghai and Beijing reach the showy heights of Paris or Milan, but with the country's increasing commercial power and influence, China's fashion models are grabbing more of the international spotlight.
As international companies flock to China to sell their luxury products, and Chinese companies expand overseas to promote their brands, there is a growing demand for local models who can deliver an eye-catching presentation of goods, be they cars, cosmetics or clothes. Virtually any product can benefit from a model.
In the past two weeks, there has been an end-of-the-year extravaganza of events in China competing to meet that demand.
On Nov 30, the 20th New Silk Road Model Competition was held in tropical Sanya, Hainan province, by China's best-known model management agency New Silk Road, followed the day after by the 24th Miss Model of the World International Grand Final in Shenzhen, and the 29th Elite Model Look world finals in Shanghai.
Tellingly, although the Elite international model agency has been holding its audition finals in China since 2004, it only opened an office in Shanghai a year ago.
"It is our first parent company agency in Asia," said Stefania Valenti, CEO of Elite World, who was in Shanghai for the final.
"Elite is also the first international model management company to set up in Shanghai."
Out of 40 Elite agencies around the world, only seven are fully owned by the company.
The newly appointed Valenti, the first woman to lead the group since it was founded 40 years ago in Paris, said revenue in the model management sector in the United States and Europe increased by 20 percent year-on-year in 2012, but she predicted that the company will gain 20 percent of its total global revenue from China in the next three years.
The company reported having almost 40.5 million euros ($52.3 million) in modeling revenues last year.
Confronted with the slowdown of the fashion industry in the West, Elite is hoping to strengthen its global assets by moving from traditional markets to newly emerging markets, especially China.
"We have gained some revenue from our Elite Model Look contests here in past years as we expanded into China in 2004," Valenti added.
In December 2011, after two years' preparation, including scouting for models, selecting a management team, and researching the needs of the market, Elite decided to end the relationship it formed with a licensing company eight years ago and began to run its business directly.
"We started with the Elite Model Look China contest to find models in different regions around China, and we have selected 10 girls who have signed contracts with us," said Yan Lei, Elite senior brand manager in China.
Having a management agency is essential to driving a model's career. But in China at present, said Valenti, there is no modeling culture, although there are numerous local model agencies. "It is not possible to train the models or to take part in a lot of fashion shows, let alone map the long-term career of a model," she said.
The French fashion designer Pierre Cardin held the mainland's first fashion show in Beijing in 1979, and by the following year, there were said to be only 11 professional models in the mainland.
There are thousands today, but the fashion industry in China is not as well-developed compared with Western countries, and fashion weeks do not hit the spotlight like those in London, Paris and Milan.
Also, small, local agencies' lack of experience and resources has hampered the rise of the Chinese modeling business.
Only the New Silk Road model management agency, established in 1989, has any measure of recognition in the country.
Valenti believes the arrival of international agencies, such as Elite, can help the business grow, as well as promote more Chinese models to the world.
"It is good to enter the market at an early stage to make sure that we start to create business when the market begins to grow," Valenti said.
New Chinese faces and models will be important for international brands that want to get in touch with Chinese customers, she added, and Elite is positioning to ride the wave as the fashion world turns its attention to China.
Elite claims to be one of the first international model agencies to promote the image of Chinese beauty, discovering Sun Feifei and Ming Xi, two of the most in-demand Asian models.
"Now, Chinese models are well placed in the domestic market and are ready to be used by overseas brands," Valenti said.
She is confident that Chinese consumers will be at the forefront of luxury-goods buyers by 2015 at home and abroad, as predicted by consumer analysts. "And, for sure, the fashion system has to provide professional services, and models will be needed," said Valenti.
The Chinese market has changed its concentration on the presentation and endorsement of products, she added.
Previously, Chinese consumers would have found international celebrities more attractive for the role, but now there is a growing pride in their own culture and image, and they want to be represented by Chinese models and personalities.
"Luxury brands that want to march into the market should be sensitive to local needs and represent the reality of Chinese women," Valenti said.
Elite represents more than 2,000 models around the world and has shaped stars such as Claudia Schiffer, Naomi Campbell, Cindy Crawford, Helena Christensen and Gisele Bundchen.
Besides searching for the next catwalk and Vogue cover stars, Valenti is approaching some Chinese brands to propose her international models for their use. She is also contacting international brands that are very keen to create a market team in China. "With new faces, brands can start promotion campaigns here," she said.
Continuing its own promotion and commitment to China, Elite has announced that the world finals of the 30th Elite Model Look will be held in Guangzhou next year.
yaojing@chinadaily.com.cn