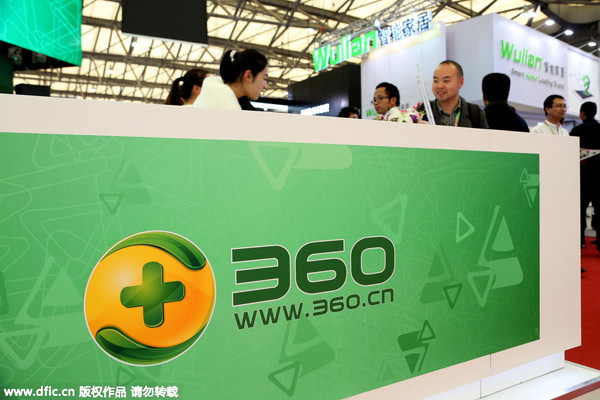 People visit the stand of Qihoo 360 during the 2015 Appliance and Electronics World Expo in Shanghai, Mar 13, 2015.[Photo/IC]
China's largest Internet security company Qihoo 360 Technology Co will step up efforts to expand offline retailing channels, as the country's online sales of handsets hit a ceiling amid slowing demand and mounting competition.
The move came as the Beijing-based company was delisted from the New York Stock Exchange and it is seeking to return to the mainland stock market for a higher valuation.
Zhou Hongyi, founder of Qihoo, said, China's smartphone market is now driven mainly by replacement users.
"Consumers are becoming more quality-conscious. Selling low-price smartphones online can't motivate them to open their wallets. They desire a hands-on experience," said Zhou.
The company entered into the smartphone market one year ago when it realized handsets will play an important part in the multi-billion-dollar internet of things market.
At the press conference, Qihoo also unveiled a new smartphone N4S. The handset starts at a price of 1199 yuan ($179) and features a super large battery which it said can last two days.
Qihoo is the latest Chinese smartphone vendor to bank on brick-and-mortar stores to spur growth. Xiaomi Corp said earlier this year that it plans to open 1,000 offline experience stores over the next three to four years.
Lenovo Group Ltd also pledged more efforts to expand its offline retailing presence, which its senior Vice-President Chen Xudong called the key to surviving intense competition in China.
The trend is further fueled by Oppo Electronics Corp and Vivo Mobile Communication Technology Co Ltd, two homegrown companies which made their way into the top five global handsets manufacturers in the first quarter of this year partly by relying on their dominant offline retailing presence in low-tier cities.