As southern Europe continues to struggle with economic troubles, the time is ripe for Chinese enterprises to invest in the northern part of the region, said an expert on European studies and a senior Danish trade official.
"The International Monetary Fund predicted on Oct 8 that the economy in (northern Europe) will shrink 0.4 percent year-on-year in 2012," said Luo Hongbo, former vice-chairman of the Chinese Academy of Social Sciences European Studies Institute.
"That will greatly affect economic ties between China and Europe, especially exports from China to the European Union and European investment in China."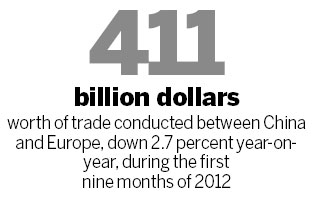 During the first nine months of 2012, $411 billion worth of trade were conducted between China and Europe, down 2.7 percent year-on-year. The 27 countries in the European Union, meanwhile, decreased their investment in China, taking the total amount down 6.3 percent to $4.82 billion.
Even so, the change was not the same for all EU members. Germany increased its investment in China by 29.1 percent and the Netherlands by 38.9 percent.
Southern Europe has been hit hardest by economic troubles, while northern European has remained relatively unscathed, Luo said.
Trade between China and Denmark, for example, is expected to increase by 15 percent this year, said Pia Olsen Dyhr, Danish minister for trade and investment.
According to official statistics, bilateral trade in 2011 increased by 18.3 percent year-on-year, reaching $9.26 billion. During the same period, Denmark invested $2.16 billion in 718 projects in China.
Dyhr said unemployment is also less common in northern European countries than in their southern neighbors.
Denmark's unemployment rate is now around 7.7 percent and Norway's is 3.0 percent.
Greece, in contrast, has an unemployment rate of 26.0 percent and Spain of 26.2 percent.
"If you compare the growth rates of the two regions in 2012 and 2013, the northern part is expected to have a higher one than the south.
"I think there is a huge potential for trade between Denmark and China My goal is to double (the current value of trade) in the next five years, especially in some categories such as environment protection and clean and renewable energy," she said.
Denmark is now home to 84 China-funded projects, and she said she hopes the number will increase to 120 in five years.
Chinese telecom equipment giant Huawei Technologies Co Ltd is doing well in the Danish market, and a Danish company this year built a demonstration nursing-home project in Chengdu, capital of Sichuan province.
During President Hu Jintao's visit to Demark in June, the two countries signed agreements valued at 16 billion yuan ($2.5 billion), Dyhr said.
Northern European countries tend to work together, rather than compete, to attract investments to the region, Dyhr said.
She said Sweden, Norway, Finland, Denmark and Iceland all have an interest in working together to attract investments.
But obstacles remain.
"We don't have an investment agreement with China yet," Dyhr said. "It has been on the table for a long time, while China already has an investment agreement with the EU."
tuoyannan@chinadaily.com.cn
Special Covergae

Related Stories
China firms to refurbish image in overseas advance
Chinese firms 'not alone' in going global
Chinese firms' push into global market
Huawei to establish Finland R&D center
Germany remains most attractive target for investors