Jolly old Saint Nicholas sets up popular international shop at post office in Beijing
The International Post Office in Jianguomen in Beijing and the embassy of Finland have launched what is claimed to be the only Christmas post office service in China.
Running until January 6, the service is in its third year, after being launched by Finnish ambassador Lars Backstroem as part of Finland's cultural exchange plan back in 2010.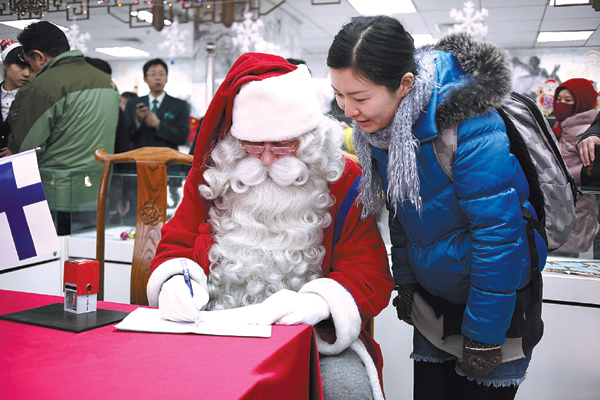 Santa writes wishes for a woman on a Christmas card at the International Post Office in Jianguomen in Beijing on Wednesday. [Photo by Wang Jing / China Daily]
Santa - who came all the way from the Arctic Circle in Finland, naturally - sits in the center of the post office lobby, waiting for customers to write their wishes on holiday postcards, which will be sealed with his official Santa signature, stamp and postmark, and sent on their way.
"I am going to surprise my daughter by sending a Santa pillow and a card with Santa's best wishes," said Wang Jian, a 32-year-old father of a preschool girl, who added he had used a similar Christmas postal service in Germany.
"There you bring your kids to the post office and they are thrilled to write to Santa in the Arctic Circle with their wishes," he said.
"But here in Beijing, it's Santa who sends his wishes - that's a much better idea."
Gao Qian, the program's coordinator, said the original idea was to give expats who work and live in China during Christmas a taste of being back home - but so far, the program has attracted more Chinese than expected.
"My son lives in the US, and I'd like to send him a package," said one Chinese lady. "I'm sure that if he receives Santa's greetings, he will feel much less lonely living abroad by himself."
Yang Yao contributed to this story.