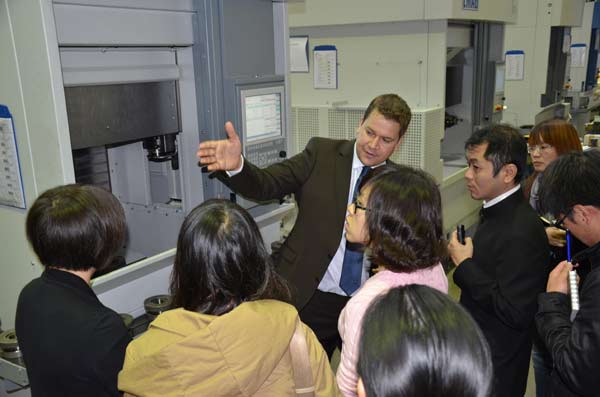 A group of Chinese visitors taking a tour at Emag factory in Stuttgart, Germany. Emag is a leading global vertical pick-up turning machine manufacturer. The company is a major supplier of Chinese steel giant Baosteel Group. Provided to China Daily 
Deutsch manufacturers writing their success in Chinese industry
While the lingering economic downturn plagues the global industrial chain, a group of small and medium-sized manufacturing companies in Germany have managed to weather the storm.
Manufacturing only one set of products today needs a good argument. But positioned as the leading machine tools makers worldwide, these German producers are quietly writing their own success stories by making what many consider to be boring products.
Small in scale, they tend to have a stable business model, are usually family-run, act low-key, focus on one core competence and stay close to the market with it.
Known as "hidden champions", they make an important contribution - some for decades - to Germany's consistent position at or near the top of world industrial production.
And they are eyeing China for new growth areas despite temporary market saturation.
Chinese market
Despite the unfavorable global climate, Trumpf GmbH Co KG, the world's largest maker of laser cutting machines, saw its sales in China advance by 9.5 percent year-on-year.
Located northwest of Stuttgart, the company offers machines for laser processing, cutting and welding that are widely applied across, among many other industries, the steel, automotive and medical sectors.
Trumpf entered China in 2000 and started with just one job shop in Taicang in East China's Jiangsu province, where there was optimal infrastructure with many potential customers and suppliers well in place, said Nicola Leibinger-Kammller, president of the company.
It initially made typical sheet metal parts that normally its customers would produce. In 2005 it added a medical technology production base in the same location.
In a market where rudimentary machines tools call for constant technological upgrading, the company started to engineer change by exhibiting a faster, more precise and more economical production pattern.
For instance, it developed a welding-on-the-fly technology where the laser beam is generated far from the welding cell and can be directed into as many as six points.
The improved beam guidance helped this technology capture additional market share for car body construction. Vehicle giant Daimler AG was quick to adopt this laser welding process.
Trumpf has made unusually aggressive moves in the past year despite the descending economic indicators in China. By overhauling its factory to double annual capacity, the company vowed to raise sales by 500 million euros ($641 million) from less than 200 million euros in 2011.
"We do see market saturation in the short run but we also expect great opportunities as Chinese industry moves up the value chain," said vice-president Peter Leibinger, younger brother of Leibinger-Kammller.
"We want a steady growth that focuses on the premium market, where demand for quality in China is absolutely rising," he said.