Apple Inc plans to move some production of Macintosh computers to the United States from China next year, Chief Executive Tim Cook said in remarks published on Thursday, in what could be a important test of the nascent comeback in US electronics manufacturing.
Apple makes the majority of its products, from Macs to the iPhone and iPad, in China, the world's factory floor for electronics. But like other US corporations, it has come under fire for relying on low-cost Asian labor and contributing to the decline of the US manufacturing sector.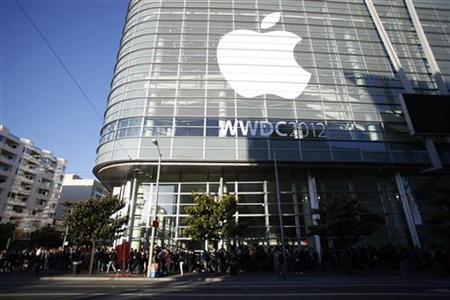 An Apple logo is seen at the Apple Worldwide Developers Conference 2012 in San Francisco, California June 11, 2012. [Photo/Agencies] 
Cook did not say which Macintosh products will be produced in the United States. But the effort is expected to go well beyond simple final assembly of devices, with Apple and unnamed partners building most or all of the components in the United States as well.
The company will spend more than $100 million on the US manufacturing initiative, Cook said in an interview with Bloomberg Businessweek published on Thursday.
"This doesn't mean that Apple will do it ourselves, but we'll be working with people and we'll be investing our money," Cook said.
He told NBC's "Rock Center" program, in an interview to be aired later Thursday, that only one of the existing Mac product lines would be manufactured exclusively in the United States.
Apple declined to comment beyond the interview.
Cross Research analyst Shannon Cross said it made sense for Apple to bring some manufacturing back to the United States, because some components were already being produced here.
Also, while cheaper labor costs have been a key factor in encouraging US manufacturers to move production to China, wages and other costs have risen sharply - particularly in the main coastal manufacturing centers. Labor costs, moreover, account for only a tiny portion of overall expenses: the research firm iSuppy says the total cost, including labor, for final manufacturing of an iPhone 5 is just $8.
Experts estimate that the total base cost of all components that go into the gadget, or bill of materials, comes to around $200.
Cross pointed to other potential benefits of US manufacturing, including mitigating the risk of intellectual property theft.