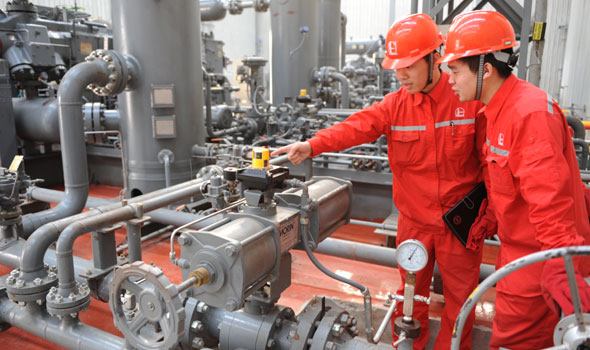 China Petrochemical Corp employees at a natural gas storage plant in Puyang, Henan province. [Photo/China Daily] 
Royal Dutch Shell Plc, the international energy giant, has estimated global natural gas demand will double by 2050 compared with the 2010 level, and that China's consumption will soar especially, bringing the company major opportunities.
Speaking in London, Andy Brown, Shell's upstream international director, said he expected global energy demand to increase by 60 percent by 2050, but said that carbon emissions must be halved to avoid serious climate change.
Shell estimates that in China, gas demand has increased five-fold since 2000.
Without speculating how much the company expected demand to rise, Brown said Shell hopes to play a significant role in meeting the country's energy needs in the years to come.
China's natural gas output this year is estimated at 107.7 billion cubic meters, a 5 percent rise compared with last year, and its consumption is expected to reach about 147.68 billion cubic meters with an annual growth of about 13 percent compared to last year, according to the energy information consultancy ICIS C1 Energy.
Meanwhile, the country's natural gas imports have kept growing fast.
China imported about 40 billion cubic meters of natural gas this year with an annual growth rate of 35.7 percent, C1 Energy said.
Shell has been investing, and will continue to invest about $1 billion annually in its upstream business in China to tap into the country's surging natural gas demand, said Brown.
Shell Chief Executive Officer Peter Voser told China Daily last month that there is "huge potential to come" in terms of the natural gas market in China.
He said the company will also focus on opportunities in the LNG, or liquefied natural gas, market in the country.
According to the 12th Five-Year Plan (2011-15) on the natural gas industry published on Monday, China will accelerate the availability of LNG filling stations during the period, to raise energy efficiency and promote cleaner fuels.
By the end of October, the country had around 385 LNG filling stations in operation, double last year's figure, according to C1 Energy.
Huang Qing, information manager at C1 Energy, estimated that by the end of 2013, China will have 932 LNG filling stations.
The Xinjiang Uygur autonomous region, and Shandong and Guangdong provinces are China's top three LNG markets in terms of the number of stations.
China National Petroleum Corporation currently owns the most LNG filling stations in China, accounting for more than 30 percent of the total number.
Rival China Petrochemical Corporation established its first group of LNG filling stations for buses in Beijing in October, while CNOOC Ltd plans to build 1,000 LNG filling stations by the end of 2015.
Ben van Beurden, executive vice-president of Shell Chemicals, added: "There will be a tremendous surge in LNG consumption in China in the future, especially in the transportation sector."
C1 Energy estimates that up to 35 percent of LNG consumption in China will be by the sector by 2015, against the current 25 percent.
Andy Brown said Shell doesn't have any LNG filling station projects currently, but it is possible to cooperate with local companies to develop stations.
China plans to be producing shale gas on a commercial scale by the end of 2015, according to its plan for the industry.
Brown said it is an ambitious target, since for China, the shale gas industry still has a long way to go.
dujuan@chinadaily.com.cn