China's private companies are becoming increasingly successful in making their brand better known, particularly overseas, according to a study released on Tuesday.
The third annual BrandZ Top 50 Most Valuable Chinese Brands study - jointly produced by WPP Plc, the world's largest marketing communications company, and Millward Brown, the global market research company - shows that the share of privately owned enterprises in the top 50 rose to 27 percent, up from 22 percent in 2011.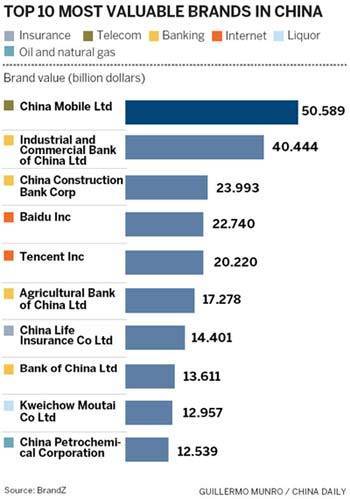 The privately owned high-tech companies Baidu Inc and Tencent Inc were ranked fourth and fifth, respectively.
On the list of companies making their brands better known internationally, meanwhile, four of the top 10 are run by private entrepreneurs: Lenovo Group Ltd, the apparel company Youngor Group, the home appliance producer Midea Holding Co and Gree Electric Appliance Inc.
The brand ranking considers financial and market data, consumer research, and covers both corporate and consumer brands.
The calculation of brand value also takes into account a brand's growth potential.
Doreen Wang, head of branding at Millward Brown China, said that in contrast to State-owned companies, the country's leading private businesses are more market-driven, having been set up in response to market needs.
Motivated by profit, she added, the entrepreneurs involved have become more sensitive to market trends than State-owned enterprises.
"Strong brands can deliver stronger performances in a slower economy, and brand importance is increasing specifically," she said, adding that China's private companies are detecting trends better, and responding quicker, than their SOE counterparts.
The brand study also found that the stronger brands had significantly outperformed the stock market in China.
Measured against the MSCI China Index over the past 14 months, the BrandZ China Top 50 has grown by 5.8 percent compared with a decline of 5.6 percent in the MSCI China Index, proving that companies with strong brands are able to deliver better value to shareholders, said the report.
David Roth, CEO of The Store, WPP's retail practice, added that maintaining a strong brand has been especially to companies that are looking to be successful in international markets.
While some Chinese SOEs topped the list of the most internationally recognized brands - the first three were China Mobile Ltd, Industrial and Commercial Bank of China Ltd, and China Construction Bank Corp - several private companies were commended for making great strides.
The report noted that 58 percent of Lenovo's revenue came from overseas, for instance, and Midea, Youngor and Gree, registered 28 percent, 23 percent and 19 percent, respectively.
"An expanding group of privately owned Chinese brands are increasing in value by meaningfully differentiating their brands," said Adrian Gonzalez, head of Millward Brown Greater China.
Take Gree's performance: the company's closing of a white goods subsidiary at the end of 2011 had badly affected the company's home appliances category, resulting in a 14 percent drop for the sector.
However, the Guangdong-based Gree stuck to its core market of air conditioning, sending a clear message and offering customers a wide choice of models.
It has now grown to control more than 50 percent of the market in China and become the No 1 air conditioner brand in the world, said Gonzalez.
Doreen Wang added that Chinese companies still have a long way to go in setting their brands recognized globally, and their continued marketing success will depend on a combination of new media and coming up with more creative advertising ideas.
"The challenge will be finding the best ways of building a corporate reputation, and trust with consumers."
Contact the writers at liujie@chinadaily.com.cn and wangzhuoqiong@chinadaily.com.cn