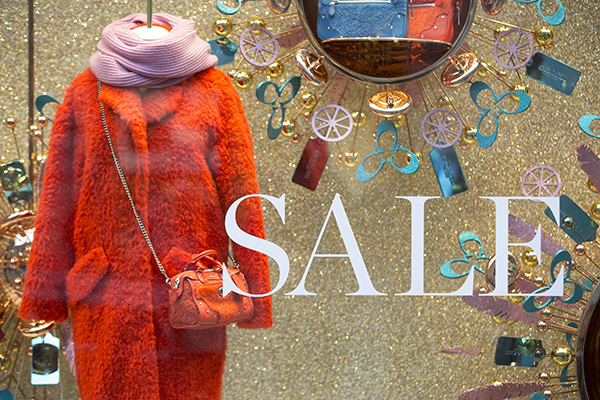 A sale sign is displayed on the window of a Coach Inc store in London, Dec 21, 2015. [Photo/VCG]
Online retailers in China have launched Brexit-themed marketing campaigns in the wake of the United Kingdom's referendum to leave the European Union, offering a slew of cut price deals on British and European goods as sterling continues to weaken.
"Brexit low prices are coming, come grab vouchers worth 1 million yuan ($149,700) in total," reads the banner across Tmall's webpage dedicated to UK goods. Slashing prices by as much as 60 percent, the Chinese online retail giant is advertising reduced "Brexit prices" on dozens of British products.
Tmall cut the price of McVitie's Hobnob biscuits, for example, by 39 percent, and marked down soft toys from London toymaker Jellycat by 8 percent. The retailer also lowered the price of some leather goods from the Cambridge Satchel Co by 40 percent. In a similar marketing campaign, Chinese online retailer Ozsp.com alluded to changing exchange rates as it offered consumers cut price European products.
Britain's vote to leave the EU immediately weakened the pound and wiped $2 trillion of world markets in 24 hours.
The result of the EU referendum and its effect on exchange rates could be a boost for some companies, according to Chinese online retail giant JD.com Inc.
Last Friday, Bank of America's wealth management division Merrill Lynch upgraded Burberry Group Plc to a "buy" rating, forecasting the British luxury fashion house's annual profit will increase by 97 million pounds ($126 million). Bargain hunters can now buy the company's sought after trench coats, for example, for around 10 percent less.