European consortium pins its sales hopes on opening up of China's low-altitude airspace
The Eurocopter Group, the world's largest helicopter maker in terms of revenue, is preparing to propel sales in China to cater for the nation's growing demand for the aircraft.
The pick-up in the general aviation sector can be put down to the country's stable economic growth, but it has long been recognized that China needs more helicopters to for wide-ranging use, including disaster relief, emergency medical services, offshore operations, utility work and commercial flights.
As a main subsidiary of the European Aeronautic Defense and Space Company, Eurocopter has 40 percent of China's civil helicopter market share with 130 helicopters in operation.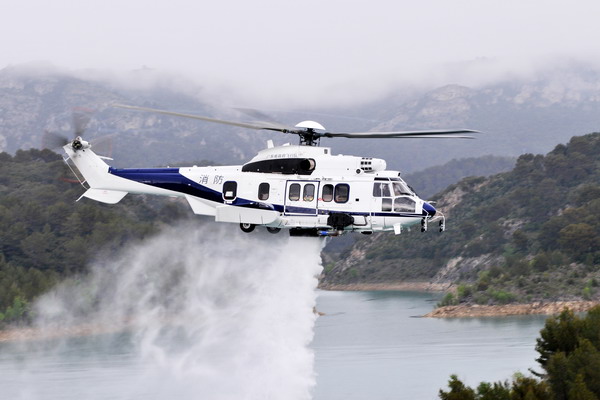 The Guangdong public security department has bought an EC225 helicopter from Eurocopter, which will be used, among other things, in firefighting. [Photo/China Daily] 
The company, a French-German-Spanish consortium, says demand has increased significantly in the past few years and hopes its fleet can be expanded to at least 500 in China by 2015.
Norbert Ducrot, Eurocopter's senior executive vice-president for the Asia-Pacific region, says it had been selling about 10 helicopters annually in China until last year, when it sold 30.
"We are anticipating this number to increase from 50 to 80 units a year in China, but it will depend on the actual rate of the opening of the skies," Ducrot says.
In 2011, Eurocopter confirmed its position as the world's largest helicopter maker with a turnover of 5.4 billion euros ($6.9 billion), orders for 457 new helicopters, and a 43 percent market share in the civil and public sectors.
The company achieved 58 million euros in revenue in China last year, a 70 percent increase on 2010. Orders also hit a record 300 million euros.
China's Citic Offshore Helicopter Co Ltd has ordered seven EC225 LP long-range helicopters in a new agreement with Eurocopter, which paves the way for future joint ventures involving the two companies in training and maintenance services to serve China's rapidly developing rotary-wing market.
The EC225 LP Super Pumas acquired in this latest order will be delivered by Eurocopter over three years from next month. They will be used in COHC's airlift duties for the offshore oil and gas industry.
The Chinese government is gradually opening more low-altitude airspace, below 1,000 meters, for private aircraft used in general aviation. This move is predicted to spur demand for general aviation aircraft, including helicopters and light aircraft.
Zhao Ying, a researcher at the Institute of Industrial Economics of the Chinese Academy of Social Sciences in Beijing, says helicopter producers and users will benefit most from the opening up of airspace.
"This market will develop fast as the government attaches more importance to the improvement of public services, and this will require more helicopters for public security, environmental monitoring, forest fire prevention, medical aid, private use, film and leisure businesses."
According to the estimates in the 2011-15 China Rotating Helicopter Market Analysis and Investment Outlook Report, from Beijing Institute Information Consulting Co, there are more than 50,000 potential users of public service and private helicopters in China. The number of helicopters in operation could exceed 1,000 once airspace regulations are relaxed.