"A patent often brings far greater value than one could ever imagine" – HKBIO
"A patent often brings far greater value than one could ever imagine," said Dr Terence L.T. Lau, chief operating officer and general manager of Hong Kong Biotechnology Organization (HKBIO), which innovates the patented biotech product - H5 series of avian flu.
HKBIO is known as a pioneer of biotechnology research and development. Soon after the company was set up, it collaborated with a major French biotech company to produce a timely innovative biotech product -a test for the H5 avian flu virus. The advanced molecular biotechnology has been modified into medical diagnostics tools and other products for use in food safety and sanitation, and in the detection of veterinary diseases, and often winning International recognition.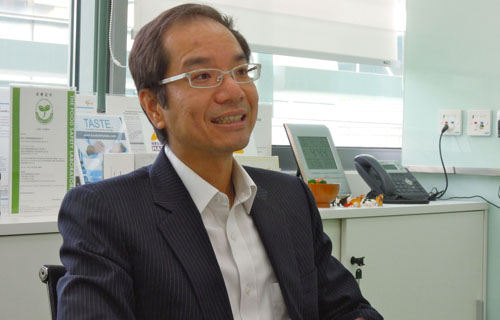 HKBIO was set up in 1999 as a biotechnology company to commercialize molecular diagnostics used in the diagnosis of infectious diseases. When the avian flu virus was detected in Hong Kong, the company acquired the core technology of one of the world's largest biotechnology recognitions. This golden recognition has lured a French biotech firm to work with HKBIO and developed a complete kit for detecting a non-pathogenic or pathogenic influenza A subtype H5 virus. The technology was submitted to the US patent office and the trademark authority and related patents have been applied for. The technology was accepted in Europe, Australia, Japan and Southeast Asia. In 2004, it was listed as a national standard in China. "The company applied these diagnostic skills and technology to food testing and veterinary medicine," said Lau. "This started with a patent from the French company and it has meant a continual expansion of our business," he said.
Dr. Lau insisted technology and intellectual property rights protection is an essential investment. The company was fortunate to receive a HK$100,000 innovation technology grant from the local government to acquire French IP rights and enabled HKBIO to develop the H5 avian flu virus diagnostic kit. HKBIO then patented its own developments, a move that was the first step on the road to success, said Lau.
Beginning in 2000, the company started working on projects involving genetically modified organisms (GMO). At the time, there were no GMO testing laboratories in Asia, and HKBIO set up the first laboratory in Asia to receive ISO 9001 and ISO 17025 certifications for qualitative and quantitative GMO testing. "The laboratory used PCR (polymerase chain reaction) and a nucleic acid sequence based amplification (NASBA) technology platform and offered microbiological and chemical testing services based on nucleic acid testing," said Lau, "of these, veterinary applications have been accepted by the agriculture, forestry and aquaculture industries in Japan.
A biotechnology company in the course of a product's development usually involves IP rights trading to complete its innovations. Hong Kong, as an international city, provides a comprehensive IP rights trading under the credential legal system. Hong Kong is becoming an IP rights trading center and could provide one-stop, full services. This would encourage more people to invest in R&D from overseas. "Biotechnology is a brand new technology and requires much time to explain the new unique features of the innovation to a patent judge, buyers and patent attorneys," he said.
HKBIO has a portfolio of more than 70 of its own patents, which includes a patent on the 'kit for detecting non-pathogenic or pathogenic influenza A subtype H5 virus'; a process for detecting nucleic acid target molecules using an enzyme-linked probe capture assay; and a patent on a novel DNA chips system and its manufacture. "The cost of applying for just one patent is likely to be more than HK$10 million, but the future return on investment could be substantial," he said.
The Swiss pharmaceuticals giant Roche paid several million US dollars for the use of HKBIO's polymerase chain reaction (PCR) patent, and the technology has helped the company earn far beyond the cost of its patent rights, he said.
HKBIO has developed its innovation research and development of electric field assisted diagnostic chip (EFADchip®) technology. The application assists with diagnosing over 300 viruses of respiratory and digestive systems, meningitis, cholera and some cancers by extracting a sample of a patient's blood or nasal mucus or any other body fluid that is needed. "We hope this new EFAC chip patented technology can be developed into a complete diagnostic platform and initiate a complete change in the current clinical and point-of-care diagnostic technology," said Lau. "The company has been working with the Guangdong Provincial Disease Control Center, carrying out clinical research and hoping that by early next year, we could launch our market promotions in the mainland market and Hong Kong."