Beijing plans to enhance its cooperation with Hong Kong in public health by hiring professionals from Hong Kong to be senior executives in Beijing hospitals, Fang Laiying, director-general of Beijing Municipal Health Bureau, told China Daily.
In order to deepen the Beijing-Hong Kong cooperation in public health areas, it is crucial to boost the communications between senior officials from both sides, Fang said after a seminar of the 16th Beijing Hong Kong Economic Cooperation Symposium.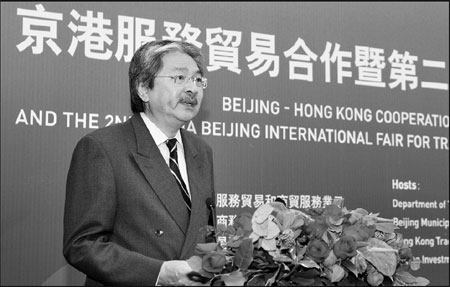 Financial Secretary John Tsang speaks at the symposium on the prospects for Beijing-Hong Kong cooperations on Tuesday. [Photo/China Daily] 
"Aside from hiring professionals from Hong Kong, Beijing Municipal Health Bureau now has two senior officials who are stationed in Hong Kong for a month to learn from their counterparts," said Fang.
He also mentioned that Beijing and Hong Kong have reached an agreement to promote the establishment of hospital management schools, which will be a big step forward in the public health sector cooperation between the two cities.
Hong Kong's Hospital Authority and Beijing Municipal Health Bureau have signed an agreement on Monday to establish such a hospital management school together.
Chairman of the Hospital Authority Anthony Wu Ting-yuk said this agreement represents great significance in promoting further Beijing-Hong Kong partnership in medical and health services.
Wu said he hopes that the two sides can work together to create a world-class hospital management brand and cultivate medical management talents.
After two days of meetings with the Hong Kong Health Department, Fang said he has learned a lot from his peers in Hong Kong, especially some detailed measures that Hong Kong has launched to promote the public health service.
He particularly singled out for mention Dr Regina Ching Cheuk-tuen, the assistant director of health, who introduced the "EatSmart@school.hk" at the seminar.
"EatSmart@school.hk" is a campaign launched by the Department of Health to cultivate healthy eating practices among students so that they can grow healthily and learn effectively.
"This campaign really impressed and inspired us, as we also believe that healthy eating is essential for children's growth and prevention of chronic diseases and obesity," said Fang.
He said that he and his colleagues also consider it very important to promote "nutrition meal" for students, and now they can learn from Hong Kong's experience in not only about how to control the quality of a meal, but also about the recipe of a nutritious meal.
Fang, who also told China Daily that Beijing is eager to learn from Hong Kong's high level of medical technology, said the delegation of Beijing Municipal Health Bureau will visit medical professionals in Hong Kong on Wednesday and Thursday to learn from a professional perspective.
Dr Constance Chan Hon-yee, director of health, said the communication between health departments from Beijing and Hong Kong has been beneficial for both sides.
Chan said that Hong Kong has learned from Beijing's efforts in deepening the medical reform, and it is also glad to share its experience in public health with Beijing.
"I hope that the two sides can keep the communication with each other and jointly promote the cooperation of the public health care," she said.
sophiehe@chinadailyhk.com