Red Hat Inc, the No 1 Linux developer in the United States, is considering investing more in its research and development and sales team in China, said the company's President and Chief Executive Officer Jim Whitehurst.
In its fiscal year 2012, Red Hat's revenue exceeded $1 billion. The company wants to reach $3 billion in the next five years.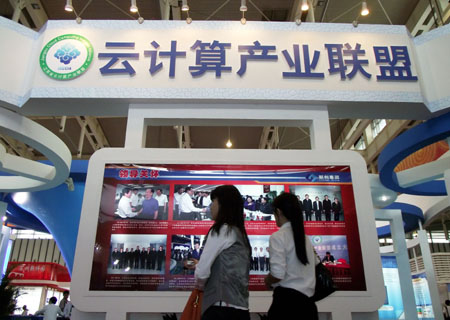 An exhibition focused on the cloud computing industry in Nanjing, Jiangsu province. The sector is booming in China. [Photo/China Daily] 
In order to fulfill this goal, the US-based open-source software company said it will place greater emphasis on the Chinese market, where IT spending and cloud computing technology are booming.
"The open-source Linux system is the hero behind the scene. Most of the stock exchange market systems are based on the Linux system," said Whitehurst.
He explained that China has a bigger market potential than other developed countries such as the US for cloud computing development because the country isn't burdened by the old system, making it easier to build a new one.
Although China has yet to contribute a big share to Red Hat's global revenues, lagging behind Japan, Australia and the US, the market still has huge potential, which cannot be underestimated, the CEO said.
The same situation will be encountered in other emerging economies, such as India and Brazil, he added.
With more and more PCs shipped globally, operating systems become a battlefield. China's huge market potential in adopting open source technologies has attracted many international IT giants such as IBM, Hewlett-Packard, Oracle and Linux developers.
According to Whitehurst, Red Hat's future target market is divided into two parts. One is in traditional areas that will see enterprises transferring from an old Unix-based operating platform to Linux, as well as from traditional storage to Red Hat storage to achieve quicker reaction times and lower costs.
The second part is in cloud computing. Red Hat is going to build more open hybrid cloud space. The CEO said that this part will be a main driver for the company to reach the $3 billion sales target in the next five years.
The plan means the company needs to have a 20 percent annual growth rate. In order to achieve this goal, Red Hat will implement two sets of operational models - the traditional and the cloud.
Red Hat China General Manager Chang Senming said the company will expand its team with 100 new employees by the end of this year and consider opening more offices in China. In October, Red Hat opened its new Beijing office and new jobs will be added soon. Chang also explained that the new staff will be in the external team and serve customers directly.
Discussing the cloud computing industry, he said that virtualization and open-source systems will be a breakthrough in helping to build a hybrid cloud ecosystem. "Red Hat's open-source technology operates like a data center to help our users' businesses' innovation scalability and flexibility," Chang said.
The Software Institution of the Chinese Academy of Sciences and China's major telecom carriers such as China Mobile Ltd and China Unicom Co Ltd are the company's customers in China.
tuoyannan@chinadaily.com.cn