Home prices in the secondary market hit a new record high for the six consecutive week last week while home sales rose to the highest in seven months in October, underscoring the government's concerns about an asset bubble.
Hong Kong's secondary private residential property prices rose 1.87 percent between Oct 22 and Oct 28 from a week earlier, representing the largest increase for over one and a half years, Centaline Property Agency said on its website.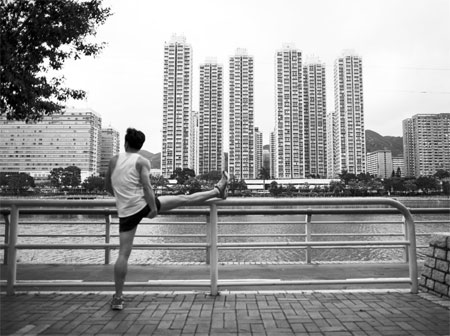 A man exercises in front of residential buildings along the Shing Mun River in Sha Tin. The city's second-hand home prices hit a new high point for the six consecutive week last week. [Photo/Agencies]
The Centa-City Leading Index, an indicator of existing housing prices in Hong Kong, increased to 114.35, indicating that the housing prices in the city have risen around 18 percent so far this year.
The latest Centa-City Leading Index reflects only the housing price for about three weeks ago (mid-October), but it does not reflect the market condition after Hong Kong government imposed the new policies to curb the housing prices, Wong Leung-sing, associate director of research department at Centaline Property Agency, told China Daily in a telephone interview.
"By late November, the impact of the government's new measures on the city's property market will be reflected on the Centa-City Leading Index," said Wong, adding that he believes it is too early to say whether the measures would lead to a decrease in home price in the city.
The Hong Kong government on Oct 26 unveiled its toughest efforts yet to curb home prices, by imposing a 5-percent rise in punitive stamp duties - ranging from 10 to 20 percent on short term home resales within a three-year period, and an additional unprecedented 15 percent Buyers' Stamp Duty on home purchases by companies and non-Hong Kong permanent residents.
Related: New home buy curbs effective in HK
The BSD could play a bigger role as it becomes rather pricey for non-local buyers to purchase homes in Hong Kong, analysts said.
A Midland Holdings Ltd survey revealed 62 percent of 229 respondents from the mainland as saying they will hold off buying properties in Hong Kong for the next six months, while another 35 percent said they will watch market conditions.
Around 3 percent of the respondents said they won't buy properties in the city anymore.
"The transaction volume in Hong Kong housing market has been frozen during the past week," Buggle Lau, chief analyst of Midland Realty, told China Daily.
Lau said the current situation is very similar to that in late 2010, when the Hong Kong government imposed the SSD for the first time.
"The demand in the housing market has dropped significantly due to the SSD and BSD," he said, adding that he believes that the transaction volume will stay low, in the short term at least.
But Lau stressed that he did not see property owners cutting their selling price significantly after the new curbing measures were imposed.
"As the cost for the home owners to hold their property did not increase, so they are reluctant to cut prices," he said, "but I did see that they (property owners) are more flexible about their asking prices now than a week ago."
sophiehe@chinadailyhk.com