What they lack in resources, they make up for with the will to succeed
A growing number of privately-owned Chinese businesses with global ambitions are following state-owned enterprises in expanding to Europe. However, unlike their state-owned counterparts, they are generally young and highly profit-driven, a corporate culture that often affords them the advantage of flexibility and innovation in foreign markets. As China's competitive edge in low-cost manufacturing shrinks, many of these companies are high-tech oriented that stress continuous product innovation and after-sale services.
"Privately-owned companies that have a competitive technology will become key drivers of China's economy," says Andrew Yuan, managing director of Hytera Communications UK Ltd.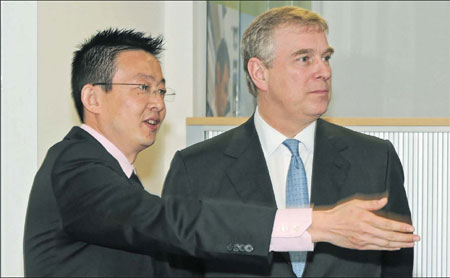 Andrew Yuan (left) shows Prince Andrew, the Duke of York, around Hytera's new office near London. [Provided to China Daily]
In 2005 Hytera, a privately-owned Chinese company founded in Shenzhen in 1993 that specializes in designing and manufacturing professional mobile radio communications equipment, sent Yuan to Britain to set up a representative office.
"We were already an industry leader in China's domestic market in 2005, so we realized that it was time for us to expand internationally so we could continue to expand at a high speed," he says.
The following year Hytera set up subsidiaries in the US, India and Indonesia, and this year it was 76th on Forbes China's list of the country's top 100 public small businesses.
Today it is a well-known brand in Britain, having supplied telecommunications services to prominent customers, including the soccer games of the London Olympics this year and to prisons.
Yuan says Hytera's revenue in Britain this year is triple that of last year, which was double the figure the previous year, and he predicts that revenue will double next year.
Hytera's expansion into Britain is typical of many privately-owned Chinese businesses, motivated to expand overseas by commercial opportunities and Chinese government policy initiatives.
The Chinese government encouraged privately-owned businesses to expand internationally in its 12th Five-Year Plan (2011-15).
That plan also detailed policy initiatives to help high-tech businesses grow because they will help China shift from rapid growth supported by cheap exports to sustainable growth supported by advanced technology.
One of China's most successful privately-owned businesses is the telecoms and computer network giant
Huawei
, which in September announced plans to invest 1.3 million pounds ($2 billion; 1.54 billion euros) in expanding its British operations.
Another well-known company is the Chinese heavy machinery maker Sany Heavy Industry, which opened a greenfield 100 million euro ($129 million) research and development plant near the German city of Cologne last year, saying it needed to reach the best global manufacturing and engineering talent to become a world-class company.
Meanwhile, many small and medium-sized enterprises are looking to expand abroad to gain an advantage in their respective fields.
That enthusiasm can be seen in events such as the first UK-China SME forum in September in which more than 30 Chinese SMEs came to Britain to hear advice from experts about opportunities in the country.
In one-to-one meetings with British SMEs, many young and enthusiastic Chinese entrepreneurs defied their limited English to engage in lively discussions with their counterparts in search of new opportunities.
One such business was Qingdao HBC Metal Precision Products Co, which specializes in high-tech processing services.
"Our technology is sufficient to supply Western customers, but we are still looking for a good international partner to provide the sales channel," said Jiang Tao, general manager of Qingdao HBC.
Jiang said she is also looking at helping British companies enter China using Qingdao HBC's sales channels.
The forum was organized by LinkToChina, a matchmaking project jointly set up last year by the British Chambers of Commerce and the China Council for the Promotion of International Trade.
Zhou Xiaoming, minister counselor to Britain, says the number of privately owned Chinese businesses investing in Britain has already exceeded the number of state-owned enterprises, although their aggregate investment is smaller.
State-owned enterprises also have many employees with international experience because they went overseas earlier, a prime example being Bank of China, which opened its first representative office in London 83 years ago.
"Many privately-owned Chinese businesses are more flexible in foreign markets than state-owned enterprises, but their disadvantage is often a lack of funding and international experience," Zhou says.