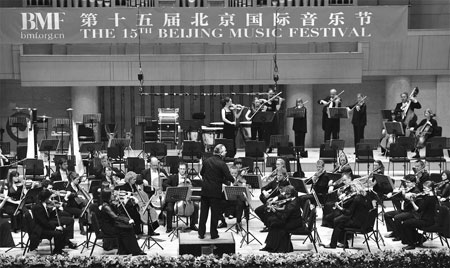 Hall Orchestra performs during the Beijing Music Festival. [Photo/China Daily] 
Music will help to form a bond between China and the West at a time when the country is attaching greater importance to art education and the cultivation of new talent, said a senior executive of Credit Suisse, a founding sponsor of the Beijing Music Festival.
This is the 14th year that the Swiss financial institution Credit Suisse has supported the Beijing Music Festival, one of Asia's leading platforms for lovers of classical music as the major founding sponsor.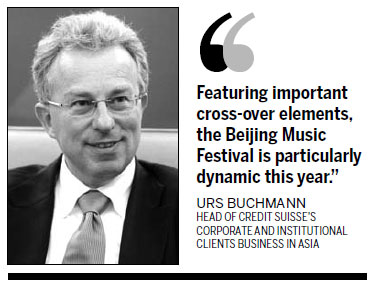 Head of Credit Suisse's Corporate and Institutional Clients Business in Asia, Urs Buchmann, notes: "I am excited to see it become a more diverse music festival, now that we are attracting a wider gathering of leading international performers to celebrate the 15th anniversary of the festival with new and returning audiences."
Under this year's main theme "Music for You," a program combining a wide choice of musical styles and genres will respond to the diverse tastes of Beijing's and China's audiences.
During the festival's 15th session there will be a total of 26 performances within a 25 days' period ending on Nov 2.
These will include opera, orchestral, chamber music and choral concerts. In addition to classical favorites, such as the Hall Orchestra and the London Sinfonietta, popular musicians, including US singer Michael Bolton and Chinese rock pioneer Cui Jian, will also take to the stage.
"Every year the Beijing Music Festival injects new aspects of classical music, either by introducing compositions not or rarely performed in China and Asia or by presenting masterworks by major authors scarcely encountered within the standard repertoire.
The festival thus succeeds in significantly broadening the public's interests. This forms one of the key reasons for Credit Suisse to support this key event within China's musical scene," Buchmann emphasizes.
The Swiss financial institution is also a sponsor of children's concerts and has supported art education for Chinese youth since 2007. By introducing Western culture, Credit Suisse values music as a bridge facilitating a comprehensive dialogue with its Chinese partners.
The medium thus helps in developing banking ties in the world's largest emerging market. The festival provides an important platform for the country's audiences to get close to Western and Chinese musicians.
It includes a complete cycle of Beethoven's 32 sonatas by Austrian pianist Rudolf Buchbinder, which takes place over seven consecutive nights.
There is also be a new opera production of Savage Land by Chinese playwright Cao Yu as well as an event titled A Dialogue Among Festival Friends, which includes musicians Cui Jian, Lo Ta-yu, Tan Dun and Yu Long.
The festival softens the borders between classical and modern music, according to organizers. Former soloist at the Deutsche Opera Warren Mok, Pavarotti protg Dai Yuqiang and acclaimed Chinese singer Wei Song will share the stage with Bolton and the Chinese Philharmonic Orchestra.
"Featuring important cross-over elements, the Beijing Music Festival is particularly dynamic this year, and I believe that the spark of art is enchanting the audience," Buchmann explains.
In addition to being a banker, Buchmann is a musician himself. He has played piano since age 5 and continues to perform widely throughout Europe and Asia both as soloist as well as in chamber formations. Buchmann says his ongoing encounter with music constitutes an important part of his life. "Playing the piano while pursuing a banking career feels like walking on two legs" Buchmann maintains, who perceives music as a complement to his career that provides for critical balance in daily life.
"Music helps my creativity, memory and reaction," he says. "To prepare for a concert requires a long-term approach and practising step by step. Ideally, you commence three years before first performing a work in public."
"It is just like doing business, especially large projects with far reaching strategic objectives, which require the discipline to work in a structured and concentrated way."
After being involved with the company's long-time sponsorship of the Beijing Music Festival, Buchmann has found that the festival can help Credit Suisse's business to better approach Chinese clients, and he says it brings great happiness to the aficionados.
"Any businessman wanting to be successful in a specific country, requires to be strongly integrated into the local society first. Such integration is being critically helped by the musical idiom, as we can feel that there is natural interest by the Chinese society, especially within the middle class, to learn more about Western classical music."
Born in Switzerland Buchmann has worked in China and Asia for 25 years. He joined the Credit Suisse AG Beijing Representative Office in 1987.
"I am fascinated by Beijing as it becomes an increasingly attractive global city and an important musical centre," he says.
"What I like about the Beijing Music Festival is the enthusiastic atmosphere within the concert going audience. Chinese classical music enthusiasts are on average much younger than their peers in Western countries. Moreover and very importantly they tend to be more open to new developments."
Buchmann thinks it is very impressive that music education is developing "incredibly fast" in China.
"An increasing number of Chinese parents are encouraging their children to learn instruments. However, in tendency education should as much comprise the nurturing of personality as the development of technical skills in order to provide for a balanced childhood and adolescence."
He strongly believes in making music a part of global communication between different cultures. "Chinese society has discovered the relevance of music presumably much earlier than Western societies.
As Confucius says, "If you want to educate a person, you should begin with poems, emphasize ceremonies and end with music," Buchmann hopes to encourage Chinese musicians, especially younger talent to perform internationally and to communicate through the universal medium of classical music as well as Chinese folk and popular music.
"Music is the universal language that builds bridges across the cultures," maintains Buchmann.
Credit Suisse has a long tradition of being dedicated to cultural activities.
Besides the Beijing Music Festival, the bank also sponsors events with the Shanghai Museum and the Beijing Today's Art Museum. As far as China is concerned Credit Suisse also hosts a series of chamber concerts in spring as well as its own New Year's concert.
chenjia1@chinadaily.com.cn