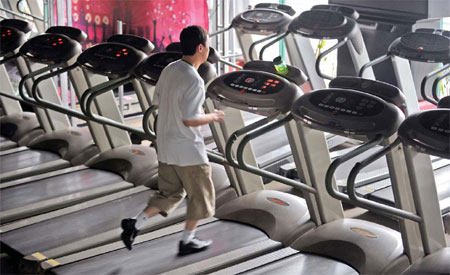 A man exercises at an Impulse fitness club in Shenyang, Northeast China's Liaoning province. The company is also building a network of health management specialists to provide customized services, in addition to its fitness club chain business. Sun Hai / for China Daily
Fitness club finds a healthy business way to hold on to members
There is a collective sharp intake of breath at most of China's fitness clubs every year when their marketing departments report the membership retention rate. On average, only 20 percent of members renew.
The horror at the thought of such depressing figures on a monthly basis means that generally only annual membership deals are offered.
But some club operators believe there are better ways to keep members happy.
"You can never hold on to your customers unless you provide a service they really need - or even surprise them," says Jiang Li, executive associate general manager of Impulse Fitness Club, which has 108 clubs in more than 30 cities in China.
The Impulse way is to broaden the service from basic fitness provider to personal health management, and by pioneering this new business model, Jiang says, it will alleviate the agony in an industry struggling to hang on to its customers.
In tandem with its fitness club chains, Impulse is building up a network of health management specialists to provide customized services, and so enter a market left almost empty by the absence of private doctors and home-visiting general practitioners.
Very few people in China have a private doctor, with most reliant on the State healthcare system.
"A health management specialist is hardly an alternative to private doctors, but clearly the market demand is huge," says Jiang.
Clients who sign up for the health management program at Impulse are profiled in detail, providing information about their lifestyle habits and family history of diseases, and undergo a physical health examination.
Specialists will provide appropriate personal health and fitness programs, including exercise and diet regimes. These are then monitored and assessed.
All 30 health management specialists, Jiang says, must have qualifications issued by the Ministry of Health. Most will be majors in sports medicine.
Architect Yi Minxue, 45, was one of the first customers at Impulse's new business in Suzhou, in eastern China's Jiangsu province.
"We are getting old and our parents more so," Yi says. "I've been looking for ages for a private practitioner or a sports medicine specialist to give me and my family health advice and a physical examination now and then, but it was not easy to find a reliable and qualified one."
Yi says he knows of many others who are looking for the same thing.
"Architects are apt to be super busy and below par health wise," he adds. "My health manager at Impulse is helping me to get the most from a healthier diet and limited exercise time."