Tencent Holdings Ltd, China's biggest Internet company by sales, expects its online video business to begin making profits in a year or two, a company official said on Tuesday.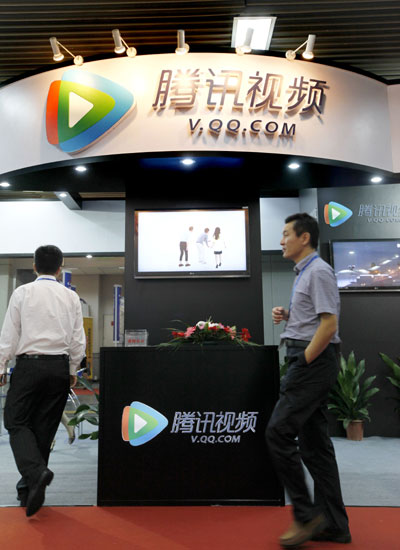 Tencent Holdings Ltd's online video booth at the 4th ChinaInternational Copyright Expo in Beijing in June. [Photo/China Daily]
Alex Liu, general manager of Tencent's online video department, said the costs of online video business have declined and its 2012 revenues are expected to increase by 450 percent year-on-year, up from the 300 percent rise seen from 2010 to 2011.
Tencent's chief competitors in the online video market, Youku Tudou Inc and Iqiyi.com Inc, have also said they have seen a significant decrease in the price of the content they offer and predicted that will help them reach profitability in the next year or two. "We are also trying other ways to generate revenue - from paid users, for instance," Liu said.
Tencent's advertising revenues reached 879.7 million yuan ($140.7 million) in the second quarter, up 71.7 percent from the same period last year, according to the company's financial report. It did not disclose the number of advertising sales it made from online videos.
Most online video companies in China remain in the red, largely because they pay more than they earn for copyrights, bandwidth and their daily operation.
Large costs and fierce competition have prompted various mergers and acquisitions in the market.
The most recent of those, occurring earlier this year, brought together Youku Inc and Tudou Holding Ltd, which before their fusion had been the two biggest companies in their line of business.
Liu said Tencent has no plans to buy its smaller rivals, he said.
About 10 companies now compete in the Chinese online video market. The smaller ones are likely to be pushed to the side gradually as they find they have fewer opportunities to increase their revenue, said Qin Lin, an Internet stock analyst at Guosen Securities Co Ltd in Hong Kong.
Liu said Tencent, to develop its online video business, plans to further invest in its content offerings, which might include some self-made programs.
Other companies are taking similar steps but few of them have managed to differentiate themselves from their competitors, he said.
Citing the market research company iResearch, Liu said Tencent is the second-biggest online company in China measured by the number of people who use its services every month.
In August, more than 262.4 million people used Tencent, just shy of the 267.5 million who used Youku, he said.
Other companies, though, cited data showing a different division of the market.
Measured by revenue, Youku had a 21.5 percent share of the online video market in China in the second quarter, followed by Iqiyi.com's 10.2 percent and Sohu's 9.8 percent, according to the domestic research company Analysys International. Tudou came in fourth in the ranking, having 8.6 percent.
Liu said Tencent has no plan to spin off its online video business.
chenlimin@chinadaily.com.cn