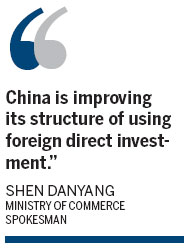 Foreign direct investment in China dropped in September for the 10th time in the past 11 months as rising costs dented investors' enthusiasm and US political leaders stepped up their China-bashing rhetoric ahead of next month's presidential election.
"Despite the decline in FDI in China in September, China's use of foreign investment is generally developing positively and healthily because China is improving its structure of using foreign direct investment," Ministry of Commerce spokesman Shen Danyang said at a news briefing on Friday.
FDI in China reached $8.43 billion in September, down 6.8 percent year-on-year, and is the 10th drop in the past 11 months, apart from a slight gain in May, according to the ministry. The first nine months saw China's FDI decline 3.8 percent year-on-year to $83.42 billion.
"A decline is the general picture for FDI in China as rising costs reduced its attraction to foreign investors and investment opportunities shrank after FDI increased rapidly in recent decades," said Li Xunlei, deputy general manager and chief economist at Haitong Securities Co Ltd.
Xiang Songzuo, chief economist of the Agricultural Bank of China Ltd, said that the slowing growth of China's economy had dented foreign investors' enthusiasm, while global economic woes had also affected international interests.
"China surely still needs FDI, but the investment is more likely to flow to fields such as the Internet and finance. And foreign investment guidelines will be subject to further adjustment."
Investment from the European Union declined 6.3 percent year-on-year from January to September to $4.83 billion, while spending from the US dropped 0.63 percent to $2.37 billion, compared with a 2.9-percent drop in the first eight months, according to the ministry.
"In the short term, declining FDI will not severely affect China's economic growth. But economic expansion will surely slow down in future," Li said.
"China will maintain relatively fast economic growth and retain a certain attraction in terms of FDI. But the challenges will increase from other emerging economies, such as Vietnam, India and Indonesia."
Xiang added that the slowing FDI inflow will affect China's economic restructuring, while also showing that foreign companies "are not optimistic about China's economic prospects" as FDI is an important gauge of the health of the external economy.
China's third-quarter economic growth eased to 7.4 percent from a year earlier, the seventh straight deceleration, according to figures issued on Thursday.
China's non-financial outbound investment in the first nine months rose 28.9 percent to $52.52 billion, down from 39 percent growth in the first eight months, according to the ministry.
"As the eurozone debt crisis keeps festering and the US economy slowly recovers ... Chinese investors are now more prudent. But outbound direct investment will grow faster as the current total volume is relatively small," Xiang said.
Li added that China's overseas investments are not fairly treated compared with China's welcoming approach toward foreign investments.
The US House of Representatives Intelligence Committee issued a report earlier this month alleging that Chinese companies Huawei and ZTE posed a possible threat to US national security.
Meanwhile, Chinese heavy industry giant Sany Group has filed a lawsuit against US President Barack Obama who issued a presidential order to prevent Ralls Corp, owned by two Sany Group executives, from owning four wind farms in Oregon, citing national security risks.
"As the US presidential election approaches, some US politicians have stepped up their China-bashing and are politicizing trade and economic issues, which we strongly oppose, as that will damage the atmosphere for Sino-US trade cooperation and could harm economic ties if the situation is not resolved," spokesman Shen said at Friday's news briefing.
Li said investment hurdles and trade friction would increase as the US presidential election approaches, while Xiang said that the fourth quarter of this year would see faster Sino-US trade growth.
Contact the writer at lijiabao@chinadaily.com.cn