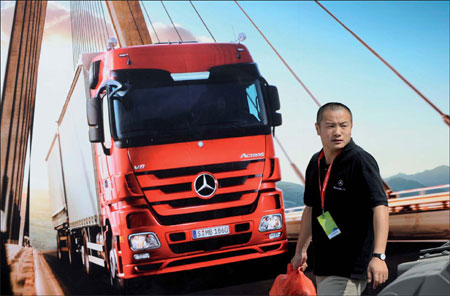 A man walks in front of an ad for a Daimler truck at an exhibition in Taiyuan, Shanxi province. Foreign truck companies are forming joint ventures in China to meet the demand from the world's largest truck market. Hu Yuanjia / for China Daily
Foreign truck companies look for local partners to make a heavy impact in China
After years of unsuccessful attempts to rumble into China, foreign truck brands are changing direction in a bid to drive up sales. They are looking to partner with local truck companies and launch lower-end product lines. While foreign car brands continue to increase their market share in China to almost 70 percent, foreign truck brands have secured a miniscule 3 percent. In 2010, among the 1 million trucks sold in China, only 10,000 were foreign brands, 1 percent of the market volume.
"Ten years ago, the Chinese market was an export market, but today we think it is another home market," says Eric Labat, president of Volvo Group Trucks China.
"The imported truck companies have the advantage of advanced technology, but the domestic truck manufacturers have been developing very fast over the past 10 years. Volvo is continuously adapting products, services and networks to the changing demands."
Volvo Trucks, headquartered in Gothenburg, Sweden, is the second-largest heavy-duty truck brand in the world. More than 95 percent of the trucks it builds are above 16 tons, and are sold and serviced in more than 140 countries.
But since the Chinese government opened the door to foreign auto manufacturers in the 1980s, foreign truck brands have taken a different route from passenger cars to enter the country.
Western marquee names quickly grabbed the wheel in car joint ventures and gained tremendous success in the Chinese market. This wasn't possible for truck builders. Truck manufacturing was supported by the government as a strategic industry as early as the 1950s, and had grown into a strong industry before foreign brands arrived.
They couldn't break into the huge market as their vehicles were too expensive for Chinese customers and too technologically advanced for their needs.
The situation remains the same today. While the price of heavy-duty trucks from major Chinese truck companies - FAW, Dongfeng and Foton - start from 200,000 yuan ($31,920; 24,600 euros), a Volvo truck can cost 900,000 yuan.
Labat says the Chinese market is really challenging to imported brands.
"If we sell several thousand trucks, it is an average market, but if you consider the huge potential in the Chinese market, the number is not big enough."
This is the only market in the world that Volvo doesn't have a market share of at least 10 percent, he says.