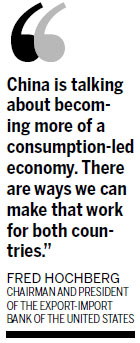 When Fred Hochberg, chairman and president of the Export-Import Bank of the United States, led a business delegation to China last month, he thought of how quickly the country had transformed from "a society that hadn't seen Polaroid cameras in 1981" to becoming the world's largest market for vehicles.
In 1981, he first traveled to China to source products for his mother's catalog business. Ten years later, he went to Shanghai and saw there were "half a dozen skyscrapers and lots and lots of bicycles". When he next visited in 2009 as chairman of Ex-Im Bank, he saw "streets lined with cars".
Last month, Hochberg traveled to Beijing, Tianjin, Chengdu and Chongqing to see how the bank can help increase exports to China, and create more jobs in the US.
During his trip, he met with Chinese officials, including Chongqing Party Secretary Zhang Dejiang, Chongqing Mayor Huang Qifan and Chengdu Mayor Ge Honglin. He also visited corporations such as PCH International and AmCham Southwest China.
"What came through loud and clear was that China needs to increase its consumption, reduce its exports and put less reliance on investment spending. With 1.3 billion people, it certainly has potential to be a stronger market for the United States," Hochberg said in an interview before his speech at an economic forum organized by the National Committee on United States-China Relations in New York last week.
The Ex-Im Bank is a government agency that assists in financing the export of US goods and services to international markets.
Hochberg, who is one of the highest-ranking business leaders in the Obama administration, said China is "one of the key markets" that can help meet President Obama's goal to double US exports by the end of 2014.
China is currently the US' third-largest export market after Canada and Mexico.
"The president said we need to be producing more, exporting more and consuming less," said Hochberg. "On the other hand, China is talking about becoming more of a consumption-led economy. There are ways we can make that work for both countries."
China imported $103.9 billion worth of US goods last year. US exports to China since 2000 - the last full year before China entered the World Trade Organization - have risen by 542 percent, at a significantly faster rate than US exports to any other major export market.
According to the Washington-based US-China Business Council, China is the only major US export market to have consistently exceeded the 15 percent target growth rate since 2000 - the minimum average growth rate per year for five years that will help double US exports by 2014.
Hochberg admits there are challenges to this "somewhat complex relationship" with China that has led to trade disputes and tariffs.
"Along with being a customer, China is also a competitor," he said. "We compete around the world with China on selling construction equipment, farm equipment, et cetera. I don't think we have another relationship with a country that is competing with us and at the same time is our customer."
About one thing he's sure - China will be a bigger customer in years to come. There will be greater export opportunities to China in Boeing Co aircraft, medical equipment, agricultural machinery, transportation and other infrastructure equipment, he said.
"China's five-year plan talks about rebalancing its economy through consumption, creating more opportunities for US exporters," he said.
atung@chinadailyusa.com