Experts say increases will not have major short-term effect on nation's CPI
Retail gasoline and diesel prices were raised on Monday for the fourth time this year, but experts said the move will not have a major short-term effect on China's consumer price index.
The National Development and Reform Commission said on Monday that the country will raise its retail fuel prices by more than 6 percent starting on Tuesday, the seventh adjustment in fuel prices and the fourth increase so far this year.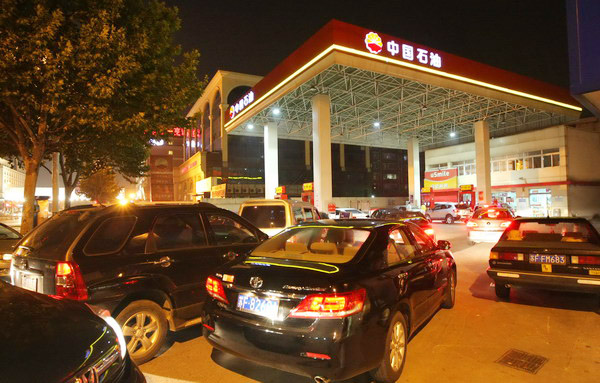 Cars line up outside a China National Petroleum Corp gas station in Nantong, Jiangsu province, on Monday. [Photo/China Daily]
Retail gasoline prices were raised by 550 yuan ($87) a metric ton, or 0.41 yuan a liter, to be capped at 8,840 yuan a ton.
Diesel prices were increased by 540 yuan a ton, or 0.46 yuan a liter, to 8,020 yuan a ton.
Gasoline prices were up 6.1 percent, while diesel increased by 6.5 percent.
The price rises will not affect the CPI, a key gauge of inflation, too much, and there will not be big changes before the US presidential election in November, said Lin Boqiang, director of the China Center for Energy Economic Research at Xiamen University.
"The oil price will remain stable for a period," he said. "The CPI will not rebound dramatically soon."
The CPI increased 2 percent in August year-on-year, up 0.2 percentage points compared with the previous month.
The price rises will directly raise the CPI by less than 0.02 percentage point, but have a greater impact in terms of passing on costs to other industries, said Yu Xiaofeng, an analyst at Beijing Petroleum Exchange.
China raised fuel prices in February and March. It then cut prices in May, June and July.
The last price increase was on Aug 10, when retail gasoline prices increased by 390 yuan a ton and diesel prices by 370 yuan a ton.
Against the backdrop of the global financial crisis and the slowdown in China's economic growth, fuel price increases will increase costs in related industries such as logistics and transportation, said Bai Bing, a senior analyst at the exchange.
"In term of upstream industries, the price adjustment will reduce refineries' losses and prevent fuel shortages, which is important to maintain steady economic growth," he said.
"The price increases will stimulate macroeconomic development to some extent."
The government has acted swiftly this year to accelerate the internationalization of the energy industry and form a market-driven system for energy prices based on saving energy and reducing subsidies, said Liao Kaishun, a senior analyst at energy consultancy ICIS C1 Energy.
"Although the pricing mechanism includes upstream costs, it does not consider demand and supply in the downstream sector, which cannot reflect the whole picture," he said.
"It is a challenge for the government to maintain this balance."
dujuan@chinadaily.com.cn