Experts welcome move, but warn of dangers of inflation, bad debt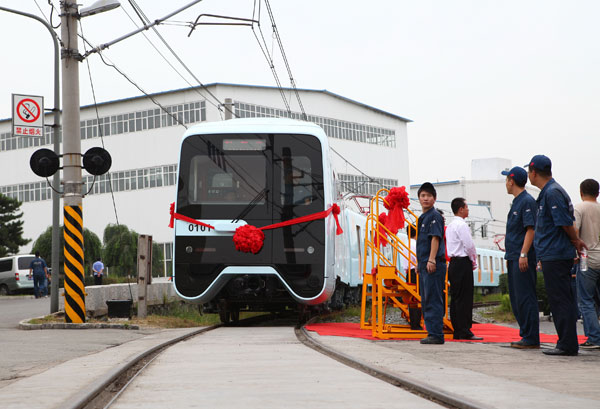 Rail cars manufactured by CNR Changchun Railway Vehicles Co Ltd roll off a production line in Changchun, Jilin province. The cars will be shipped to Harbin, Heilongjiang province, later this month for the city's urban rail-transit system. Zhang Pengfei / for China Daily
China's top economic planner announced on Wednesday the approval of 25 new urban rail transit and intercity rail line projects with a total investment of more than 800 billlion yuan ($127 billion) as the world's second-largest economy struggles with a slowdown.
The projects, most of which will take three to eight years, are expected to inject vitality into the country's slowing economy and improve the investment environment, but economists warned of low-efficiency investment.
The estimated investment for the new transit system will exceed 158 billion yuan in Shanghai and 124 billion yuan in Guangzhou, according to statements on the National Development and Reform Commission's website.
Local governments will be major investors, and other financing channels mainly include bank loans.
Residents of second-tier cities such as Xiamen in Fujian province, Taiyuan in Shanxi province, and Lanzhou in Gansu province expect to commute with new subways in the coming years, and transport systems in cities such as Shanghai could become more convenient.
Sun Lijian, a senior economist at Fudan University in Shanghai, said infrastructure construction costs are high, so local governments must carefully analyze the yield on their investment.
"If the upgraded infrastructure and environment cannot attract more investment and tax revenue from enterprises, the investment is likely to turn into bad debt," Sun said.
The NDRC has accelerated approval of projects since April, and local governments have launched many stimulus plans to bolster the economy, but banks have become more cautious due to increasing credit risks, economists said.
According to Chinese media reports, the investment in stimulus packages announced by some provincial and city governments adds up to more than 10 trillion yuan over the past few months.
China Securities Journal reported on Wednesday that the central government will further simplify the procedure to help companies raise more funds on the bond market and reduce reliance on banks.
The NDRC plans to give a "green pass" to low-income housing projects and projects under construction including transportation, telecommunications, railway construction and strategic emerging industries, the newspaper reported.
Issuing corporate bonds could help enterprises cope with liquidity shortfalls and attract "idle money", Sun said.
However, if the funds that are raised fail to make real profits, such as a portion of the stimulus package launched during the financial crisis, the investment may eventually lead to bad assets and inflation, he added.
The latest data show the poor economic performance of the Chinese economy, which slowed to 7.6 percent growth from April to June, the slowest pace in three years.
Demand for electricity declined in August with 444.49 billion kilowatt-hours of power generated, down from 453.6 billion kWh in July, the State Electricity Regulatory Commission said on Wednesday.
The HSBC Holdings PLC's China Services Purchasing Managers' Index released on Wednesday fell to 52.0 in August from 53.1 in July, showing slower growth in service sector activity.
But that sector is still stronger than the manufacturing sector. HSBC's China's manufacturing activity fell to 47.6 in August. Anything below 50 indicates overall activity is contracting.
The official PMI released by the National Bureau of Statistics fell to a nine-month low of 49.2 from 50.1 in July.
Slowdown worries
Slower growth in China is seen as the biggest concern — more than the slowdowns in either Europe or the United States — to Asia's economic growth, said a survey the think tank Pacific Economic Cooperation Council released on Wednesday.
As a group, the growth of emerging Asia-Pacific economies in recent years has been around 8 percent, largely driven by China. From 2012 onward, they are expected to grow at above 6 percent, said the survey.
The survey showed business executives, senior government officials and academics were more worried about the impact of the slowdown in China than they were about slowdowns in Europe and the US.
Views on emerging markets have turned from being equivocal to negative, it said. Around half of regional opinion leaders are expecting growth in China and India, the world's two biggest emerging economies, to slow over the next 12 months.
Growth in the Asia-Pacific region this year is expected to increase slightly to 3.7 percent from last year's 3.5 percent. Looking ahead to 2013, growth will be much the same, at 3.9 percent.
The global economic slowdown had continued to affect regional economic integration as well as regional economic growth.
Problems in the eurozone weigh heavily on the outlook for the Asia-Pacific region. Europe imports around one-fifth of all the region's exports, and European investors hold around one-third of the region's financial assets.
Exports from the Asia-Pacific region to Europe have already dropped in the first half of this year, though not as much as they did in 2009, it said.
Contact the writer at lanlan@chinadaily.com.cn