China hikes rail spending target for third time since July to boost growth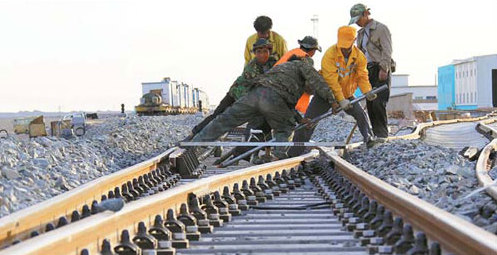 Workers lay tracks at the Luozhong station in the Xinjiang Uygur autonomous region. The Ministry of Railways will invest up to 496 billion yuan ($78 billion) in rail construction projects this year as part of the government's latest efforts to boost the slowing economy. Cai Zengle / For China Daily
The Ministry of Railways has raised its target for railway construction spending this year to 496 billion yuan ($78 billion) from 470 billion yuan in a move seen as part of the government's latest efforts to shore up the slowing economy.
"The investment on new railways will be at least 67 billion yuan a month from September till the end of this year," China Railway Group's President Bai Zhongren told a news conference in Hong Kong on Tuesday.
This is at least the third time this year that the ministry has raised its investment target since the start of July when Premier Wen Jiabao said promoting investment growth is key to stabilizing economic expansion that has fallen to the slowest pace in three years.
In its previous moves, the ministry has raised its spending target from 406 billion yuan to 470 billion yuan. The latest investment target (496 billion yuan) is 35 billion yuan more than last year's spending of 461 billion yuan
Meanwhile, data from the ministry showed that total investment in railway fixed assets during the first seven months of 2012 was 30 percent less from a year ago, due to fewer new projects and lack of funding.
"The Ministry of Railways will hold a mobilization meeting soon, which is very rare and it demonstrates its determination on boosting the railway construction," said Bai.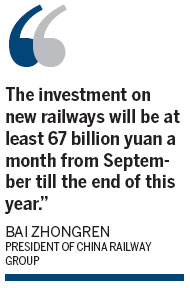 Liao Qun, chief economist of China Banking Group at Citic Bank International, told China Daily that currently, one of the major measures used by the central government to stabilize the country's economic growth is increasing investment in infrastructure projects.
"The scale of the spending on infrastructure this year won't be as large as it was in 2009, as the central government only needs to deliver 7.5 percent GDP growth for the country," said Liao.
China's official PMI, one of the earliest indicators of China's economy, fell more than expected to 49.2 in August from 50.1 in July, the lowest in nine months, giving rise to expectations of more policy easing by the government.
S&P Capital IQ analyst Hooi Tow Chew also said in a report that the central government is set to step up infrastructure projects' approvals to support economic growth.
He pointed out that China Railway Group will benefit from this move as railway construction contracts are expected to pick up following the increase in the railway spending budget.
China Railway Group, the country's leading heavy infrastructure company, posted a decline in its first half net profit as the country spent less on building new railway lines.
"I can tell you for sure that the second half of this year will be better than the first-half (for China Railway Group)," Bai said.
During the first half of 2012, the company's new infrastructure construction contracts was 200.72 billion yuan, up 13.36 percent year-on-year; by the end of June, the company's backlog of infrastructure construction contracts was 937.34 billion yuan, 4.3 percent more than it had at the end of last year.
sophiehe@chinadailyhk.com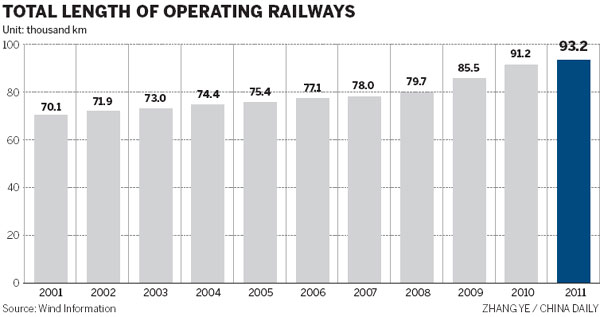 (China Daily 09/05/2012 page13)
Today's Top News
Editor's picks
Most Viewed