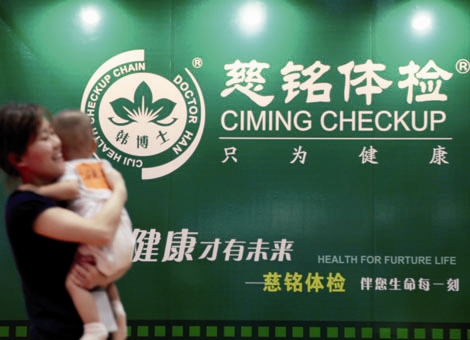 An advertisement for Ciming Health Checkup Management Co Ltd, a private health clinic company, in Beijing. [Photo/China Daily] 
Private medical companies are being encouraged to take a more active role in the growing treatment of chronic disease in China, especially as the population continues to increase its wealth.
In fact, the rise in many of the more common conditions is actually being attributed to the adoption of lifestyles often associated with more affluent populations, according to Wu Yangfeng, a professor with the School of Public Health at Peking University.
Diabetes, heart disease, hypertension and cancer, particularly, have become increasingly common in recent years, emphasizing the importance of preventative medicine, not just treatment, he said.
"Until now, the country's public medical service has been providing treatment for many in the population, but it is becoming stretched, especially as we see growing numbers of people suffering from those types of diseases often linked with certain types of lifestyle," said Wu.
China has now overtaken India as having the world's most diabetes sufferers, with a tenth of the population suffering from the non-epidemic chronic disease.
There are also 300 million diagnosed hepatitis B sufferers, and 200 million affected by hypertension.
And according to the World Health Organization, a fifth of deaths in China are now caused by cancer.
Research also shows that China's growing middle class is expecting more in terms of the quality of medical care.
Many who have worked or studied abroad have become accustomed to receiving top-class healthcare, according to Karen Prosser, head of the health sector of UK-based EC Harris Asia-Pacific.
Rather than simply going to a hospital when they get sick, wealthy Chinese are also interested in being more proactive in managing their health - and they are willing to pay for the privilege.
Wu added that as more patients find themselves able to afford to go private, this has certainly eased the pressure on the already stretched public health services.
Across China, a number of leading private healthcare providers have already started to enjoy a strong reputation in chronic disease prevention.
The growth has been carefully planned. From first testing the market with physical examination services, they have steadily expanded into more recognized private medical specialties, including preventative health and lifestyle advice.
Such institutes include Beijing-based Ciming Health Checkup Management Co Ltd and iKang Guobin Healthcare Group, and the Shanghai-based Meinian Onehealth Healthcare Co Ltd.
The private health sector has also attracted considerable foreign investment.
One of the world's largest private equity firms Carlyle Group LP bought a 13.5 percent stake in Meinian Onehealth in August. It now has a national network of 83 clinics in 41 cities, and that's expected to grow to 300 clinics by 2015.
In late 2007, iKang Guobin, considered the largest independent healthcare management company in China with 25 clinics, received $25 million in new funding from investors including Merrill Lynch and venture capitalists ePlanet Ventures.
"According to government plans, private hospitals will be providing up to 20 percent of total patient volume by 2015, from the current 9 percent," said Frank Guo, a director with research and information experts Ipsos Healthcare China.
"We have seen many private hospital groups being established in recent years and this will continue growing."
Wang Linhong, deputy director of the non-epidemic chronic disease control and prevention bureau affiliated to the Ministry of Health, also expects the trend to continue.
"Private and foreign investors opening specialized hospitals focusing on treatment of diabetes, cardiovascular disease or cancer, are much-needed and they will complement the services being provided by public hospitals," said Wang.
According to the Ministry of Health, by the end of last year there were 8,437 private hospitals, including joint ventures, in China compared with 13,542 public medical institutions.
The majority of the private facilities were involved in providing specialist disease treatment, and were still relatively small.
Dong Shigao, an analyst with domestic consulting firm Forward Business Intelligence Co Ltd, said that how well these growing private facilities are supervised in the future will be a major challenge for the government.
"Due to their small size, the services they provide will probably only account for about 10 percent of medical care in China."