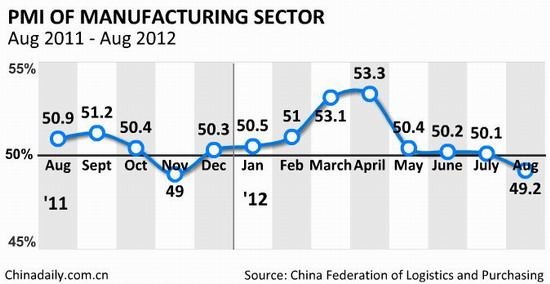 BEIJING - China's manufacturing activity slid further in August, with the purchasing managers index standing at 49.2 percent, the lowest pace in nine months.
The PMI reading in August retreated 0.9 percentage points from July, according to data released on Saturday by the China Federation of Logistics and Purchasing. It marked the first time the index has fallen below 50 percent since December.
"The PMI continued to dip in August to a point below 50 percent, which shows the manufacturing sector is contracting," said Zhang Liqun, an analyst with the State Council's Development Research Center.
A reading of 50 percent demarcates expansion from contraction.
The PMI has kept above the contraction level since December, when the reading was 50.3 percent. From January to July, the index stood at 50.5, 51, 53.1, 53.3, 50.4, 50.2 and 50.1.
The falling PMI last month showed growth in the world's second-largest economy remains in a downward movement, falling to 7.6 percent in the second quarter of 2012, the lowest level in more than three years, said Cai Jin, CFLP vice chairman.
"The [weak] external demand remains the biggest factor dragging down China's economic growth; meanwhile, domestic demand has not yet improved," said Fan Junlin, an economic researcher at the Agricultural Bank of China, a key state-owned bank.
As indicated by a sub-index for new orders for August, the index continued to trend below the boom-bust line for four consecutive months and hit 48.7 percent, down 0.3 percentage points from July, signifying that demand for China's manufactured goods is declining.
The output sub-index for August stood at 50.9 percent, down 0.9 percentage points from July, indicating that even though the production of manufacturers is still expanding, the activity slowed sharply.
The sub-index for new export orders stayed unchanged at 46.6 percent, while that for import rose by 2 percentage points from July to 47 percent.
The PMI for nine sectors including oil processing, coking, and machinery manufacturing stood above 50 percent, while sectors such as chemical fiber and metal production contracted, according to the report.
The calculation of the official PMI data covers 820 enterprises.
Despite the less-than-satisfying data in August, Cai Jin forecast the slowdown of the economy may gradually bottom out in September.
Fan Junlin predicted that August and September might be the toughest period for the economy. However, he forecast both domestic demand and external demand will rebound in the fourth quarter.
Zhang Ping, minister of the National Development and Reform Commission, China's top economic planner, said earlier that the government's policies and measures have been effective and the country's economic growth is stabilizing at a slow pace.
During an inspection tour last week to the southern province of Guangdong, Premier Wen Jiabao called for China to carry out targeted efforts to steady export growth.