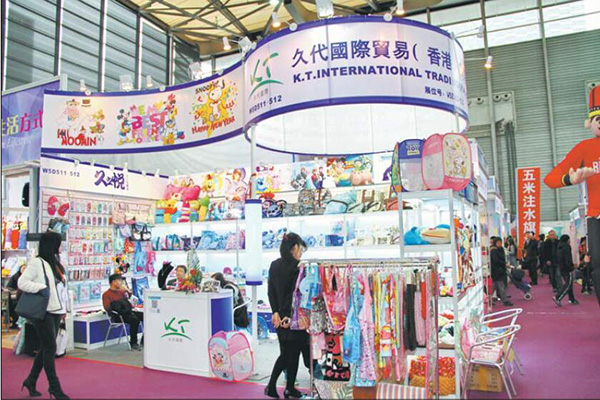 A Hong Kong company's colorful booth at the 2015 East China Fair in Shanghai. [Photo provided to China Daily]
The 26th East China Fair, one of the largest international trade fairs with the highest turnover volume in East China, is scheduled to open from March 1 to 5.
The annual event, jointly organized by the governments of six provinces and three cities, will have more than 5,000 booths over 115,000 square meters of exhibition space.
The expo will feature five exhibitions: garments, textiles, home appliances, decorations and modern lifestyle.
"This year the exhibits will be classified in a more detailed way, so buyers can find their targets more easily," said Zhang Weimin, general manager of Shanghai East China Fair Management and Service Co.
The modern lifestyle exhibition is a new addition highlighting the theme of "Savor, Fashion and Originality", the exhibition will showcase overseas products. Many international organizations will be involved through the use of national pavilions.
More than a dozen countries and regions have confirmed their participation, including Japan, South Korea, Malaysia, Italy, Vietnam, Nepal, Latvia and Hong Kong.
The Japanese delegation will bring water-purifying devices, high-end down quilts and a paint that can reduce indoor temperatures in the summer.
The South Korean delegation will showcase cosmetics, kitchenware and food and snacks, while the Malaysian delegation will highlight leather products.
The e-commerce sector is also a focus in the modern lifestyle exhibition. Many cross-border platforms have been attracted to the show, such as Alibaba, BizArk and Made-in-China.com.
Last year, the expo had more than 3,300 exhibitors from home and abroad, including 13 overseas countries and regions. It attracted 13,000 buyers from China and 212,000 from 114 countries and regions abroad, with total export deals worth more than $2.5 billion.
According to a survey of 648 companies conducted last year by organizers, 36 percent used cross-border e-commerce platforms for international trade, while 47 percent said they are interested but have not yet used such platforms.
A forum on cross-border e-commerce platforms is planned for the first two days of the expo. The platforms have become increasingly attractive to traditional foreign trade companies.
"The cross-border e-commerce sectors at the expo will provide online support for traditional foreign trade business," said Zhang. "We planned the forum to help trade companies improve their global competitiveness."
The forum will invite guests from leading companies along the e-commerce industry chain worldwide, such as Amazon, eBay, JD.com, Alibaba, Google and Paypal, to give speeches, with topics including credibility issues, logistics, searching technology and payment solutions.