Imported iron ore prices are at their lowest level since late 2009 because of shrinking demand from steel mills, forcing many Chinese iron ore producers to cease production and causing huge stockpiles of ore across the country.
Prices have fallen to $100 a metric ton compared with last year's high of $190 a ton, said Xu Xiangchun, information director of industrial consultancy Mysteel.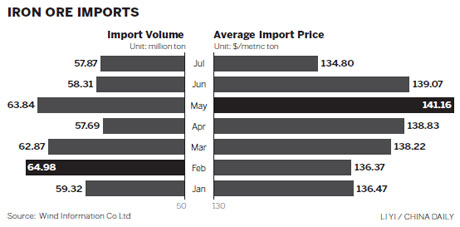 Wang Guoqing, deputy director at the Lange Steel Information Research Center, said he is now predicting that imported iron ore prices will fall to $70 a ton next year, if steel demand continues to be weak.
"The golden age for imported iron ore in the Chinese market has gone, and will never come back," Wang told China Daily.
Prices of the material coming into Rizhao port in Shandong province have fallen an average of $22 per month for the past three months, according to the center.
Figures from the Beijing industry research firm Wind Resources show that by the end of last week, iron ore inventories in 30 major ports in China totaled 98.95 million tons after two weeks of successive rises, a record 23-week high.
The figure indicates 3.74 million tons more than the same period last year.
Xu said Chinese steel producers are using 80 percent to 95 percent of the iron ore being imported currently, which has led to the shutdown of many domestic mines.
"Compared with domestic iron ore, imported resources have better quality at relatively lower prices," he said.
In July, China's iron ore output declined to 115.46 million tons from 125.69 million tons in June, the first drop in monthly output this year, according to the National Bureau of Statistics.
Imports, meanwhile, dropped 0.8 percent to 57.87 million tons in July, the lowest since April, according to figures from the General Administration of Customs.
Wang said ongoing falling steel prices have caused less consumption of iron ore and declining prices of the material.
Imported iron ore prices remain relatively low, and are still delivering profits for foreign miners, he added.
BHP Billiton Ltd, the world's largest mining company, reported a 35 percent drop in first half earnings last week to $15.4 billion because of falling commodity prices.
Marius Kloppers, its chief executive, said during an Australian television interview that he expects a long-term price decline for the company's commodities as Chinese demand cools.
"That is what we have assumed in our planning processes for the last couple of years and we see no reason to change that," he said.
"We go through a pretty rigorous process to pick those long-term prices. They are, by and large, lower. Some products are going to be more attractive than others."
The company also suspended an investment program valued at $68 billion earlier this month in order to control costs.
According to a recent report from the Swedish-based consultancy Raw Materials Group, there is currently a 510 million ton overcapacity of iron ore globally, leading to a severe glut in the industry.
Iron ore prices continued to rise after 2009 when many countries carried out measures to erode growing profits by steelmakers, said Hou Zhiyun, senior analyst at Lange.
"As a result, steel company profits declined rapidly because of rising raw material costs and many had no money to improve the technology or efficiency of their plants," she said.
"At present, huge losses by China's steel companies mean many are on the edge of bankruptcy. It is time to seek a rebalance in the market between miners and steelmakers."
China exported 4.32 million tons of steel products in July, 17 percent lower than a month earlier.
As the world's biggest importer of iron ore, China is a main driver of global commodity demand, keeping prices high in recent years.
However Dai Sujuan, an analyst at Mysteel, said that cannot be allowed to continue under current economic conditions.
He predicted that demand for raw materials will remain low in the second half.
dujuan@chinadaily.com.cn