Despite disputes, two nations plan to grow trade to $100b by 2015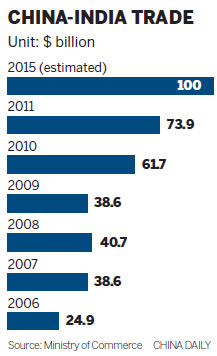 China has promised to allow the import of more products from India, to close an existing $23.4 billion trade gap between the two countries, despite a series of trade disputes in recent months.
A Chinese delegation led by Minister of Commerce Chen Deming visited India from Monday to Tuesday, and officials said that both sides have agreed to work toward a "more balanced" trade model.
Chinese exports to India reached $73.9 billion in 2011, with its Indian imports worth $50.5 billion, according to statistics from the Chinese General Administration of Customs.
A ministry source told China Daily that the Indian government recently submitted a list of more than 900 of its preferred export items to China. But he declined to elaborate on what specific goods China has agreed to allow more access to.
Indian statistics showed it took China 10 years to rise to the largest source of India's imports, from the seventh.
But trade relations between the two Asian powers have been strained after a series of spats.
Chinese officials were reported by Reuters to have raised India's decision last month to impose a tariff of 21 percent on imported power equipment — a controversial move widely seen as targeting Chinese firms which have emerged as the world's main suppliers.
For its part, India has long complained that its companies, from IT and services to pharmaceuticals to Bollywood filmmakers, are unfairly restricted when trying to enter the Chinese market.
India primarily sells copper and iron ore to China, and imports high-end manufacturing and high-tech goods.
The ministry source said that the delegation had concluded, "this week's bilateral talks were positive".
Chen met his Indian counterpart, Commerce and Industry Minister Anand Sharma, and the two ministers announced that they had agreed to grow bilateral trade to $100 billion by the end of 2015.
Chen said the two sides are "committed to meeting that target in a more balanced way".
"There exists a trade imbalance between China and India, but China does not purposefully seek a trade surplus and has been actively expanding imports from India," Chen added.
"China expects Indian companies to promote their goods in China through all kinds of platforms and to enlarge their exports to China."
Sharma recently said he planned to press China to import more from India, particularly pharmaceuticals and information technology services, in which he said India enjoys advantages.
Last December, India's National Security Council Secretariat even suggested that the trade deficit with China may pose security concerns.
"It is significant for the two sides to enhance trade cooperation, due to the divergence of the structure of products between China and India and their leading economic positions in Asia," said Huo Jianguo, president of the Chinese Academy of International Trade and Economic Cooperation with the Ministry of Commerce.
"China has expressed its willingness to buy more from India, and there is potential for China to do so. It could certainly take the initiative," he added.
While the Indian economy slows down and the nation's foreign direct investment remains weak due to ongoing concerns over its infrastructure, India increasingly relies on exports to boost its economy, said experts.
During the first quarter, India's economy expanded by 5.3 percent year-on-year.
In July, the International Monetary Fund revised its growth projections for India to 6.1 percent this year from 6.9 percent, and cut its 2013 forecast to 6.5 percent from 7.3 percent.
In April and May, India's foreign direct investment dropped by 41 percent and 72 percent from a year earlier, which rang alarm bells in the Indian government when compared with year-on-year growth of 88 percent in the 2011 fiscal year ending in March of this year.
Despite the world's second-largest economy announcing more plans to focus on domestic consumption, "China is a market that India needs to focus on", especially amid the European debt crisis, said Zhou Shijian, a senior trade expert from Tsinghua University.
Commerce Minister Chen said during the trip that more Chinese investment into India is another way for the two sides to balance their trade.
India has been active in initiating trade protectionist measures, with some estimates putting it top of the list of countries bringing trade actions against China, although the United States is still the largest by value.
During the past three years India is believed to have initiated 35 trade investigations into Chinese companies, with 33 cases ending in higher duties.
The nation this year announced several trade investigations into Chinese exports, covering a wide range of categories, from chemicals to electronics and steel products.
July's announcement of the 21 percent tariff on imports of power equipment was believed to be aimed primarily at Chinese imports from key industrial companies.
Given the poor track record of approval of Chinese attempting to invest in India's telecoms and energy sectors, Zhou said he is skeptical of future success.
"India cannot easily loosen the restrictions over foreign investment," he said.
"The Chinese government needs to take action to balance bilateral trade, but I don't expect the initiatives, even if taken, would result in fewer trade investigations into Chinese goods by India."
Contact the writer at dingqingfen@chinadaily.com.cn