Northwestern province faces unique geographical, socioeconomic hurdles
Qinghai province will continue to carry out the central government's medical reform policies, while taking more steps to meet local people's specific demands, said a senior local official.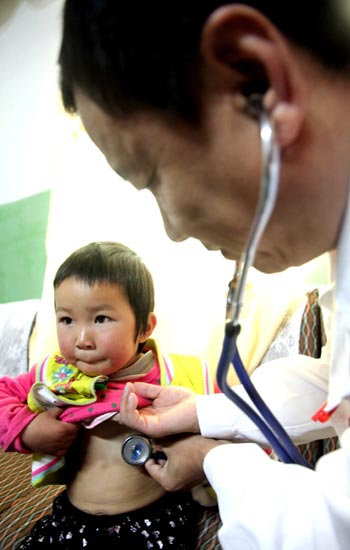 A pediatrician examines a child in Tongde county, Qinghai province. As a result of reforms in 2009, 95 percent of the people in Qinghai are now covered by medical insurance. [Photo/China Daily] 
According to Li Xiaodong, deputy director-general of Qinghai Health Bureau, Qinghai, the nation's largest province by area and located in northwestern China, has complicated geographic, social and economic conditions, therefore providing universal healthcare faces great challenges.
As a result of reforms launched in 2009, 95 percent of people in Qinghai are now covered by medical insurance. And the provincial government has raised subsidies on basic medical insurance for both urban and rural residents to 300 yuan ($47) per person per year, 60 yuan higher than the national average.
In addition, the medical expenses reimbursement rate at grassroots institutes, including residential community medical centers, township health centers and village clinics, has reached 90 percent.
"We are taking the lead in the nation (in terms of healthcare reform), thanks to central government's preferential policies toward western China. However, we have to consider the unique conditions in Qinghai, there is still a lot of work to do," said Li.
Qinghai is located in a plateau area with an average altitude exceeding 3,000 meters, resulting in the occurrence of some high altitude diseases, such as pulmonary edema and abnormal blood pressure.
In addition, economic development levels vary greatly across the province.
Around two-thirds of Qinghai is pastureland, with herdsmen's households scattered across vast areas and moving around frequently, which makes it difficult to provide patients with timely treatment.
In addition to 11 types of treatment specified by the central government, the provincial government started including chronic respiratory disease patient management and the prevention and control of endemic diseases in basic medical care from last year, and these are freely available at public medical institutes in Qinghai.
During the past three years, Qinghai has invested 11.48 billion yuan in improving local healthcare, including infrastructure construction, equipment installation and training. A total of 2.27 billion yuan was spent to improve healthcare in impoverished rural areas.
"Farmers' awareness of healthcare is also increasing. Some families with pregnant women have chosen to pitch their tents near our clinics," said Wang Tingjun, director of the women and children's department of Qinghai Health Bureau.
Qinghai is also supporting the development of traditional medicine, and taking steps to encourage its use.
Between 2009 and 2011, the province invested 106 million yuan to support the development of county-level traditional medicine hospitals.
At village clinic level, doctors are being encouraged to plant, collect and process herbal medicines, and all revenue generated from this will belong to the doctors themselves, said Zhao Hui, planning and finance department director of Qinghai Health Bureau.
"In addition to following central government policy, we will focus more on our weakest point, attracting talent, in the coming years," said Li.
Besides routine mid-career training, more long-term and systematic courses will be offered to healthcare practitioners in Qinghai.
"We will also promote bilingual-language training course for Tibetan doctors. Combining theoretical courses with clinical practices will be highlighted," said Li.
Contact the writer at liujie@chinadaily.com.cn