Exactly one year has passed, and 3-year-old Xiang Weiyi - the last survivor of the deadly Wenzhou train accident in Zhejiang province that claimed 40 lives - is able to walk again and is taking the next steps in life.
Xiang Weiyi, nicknamed Yiyi, from Wenzhou, was rescued from the wreckage 20 hours after the train accident, which had killed her parents.
The girl's left leg was badly injured, and doctors originally believed it would have to be amputated.
Yiyi was transferred to Shanghai's Xinhua Hospital from the hospital in Wenzhou for further treatment last August. The girl can walk again after intensive treatment.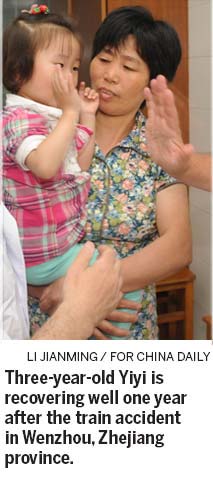 Her grandmother and uncle, Xiang Yuyu, took her in after the accident.
The three often travel several hours from their home in Wenzhou to Shanghai for the girl's physical therapy.
Yiyi is recovering well.
German experts also gave her recovery a high evaluation in Zhejiang Tongxiang No 3 People's Hospital in June, according to Xiang, who updates Yiyi's progress on Sina Weibo, a Twitter-like Chinese micro-blogging platform.
In his most recent post on July 20, he wrote: "Every time she walks by a kindergarten, Yiyi gets excited and shouts: 'Uncle, see, a kindergarten!' She's eager to enter kindergarten and envies children who have."
Xiang says they've tried to send Yiyi to kindergarten during her spare time in the afternoon to let her experience the life of a normal child and reduce her inferiority complex.
Despite many attempts, China Daily couldn't reach Xiang.
According to Xiang's micro blog, his 6-month-old boy might have a blood illness.
While recovering physically, Yiyi is developing psychologically.
"It's clear she's entering her first period of rebelliousness," Xiang writes on his Weibo.
"Sometimes, she shows a quick temper and misbehaves. But, after she calms down, she understands she has done something wrong and explains her logic. It's sad for a child to understand too much. She has already experienced so much misfortune."
wanghongyi@chinadaily.com.cn