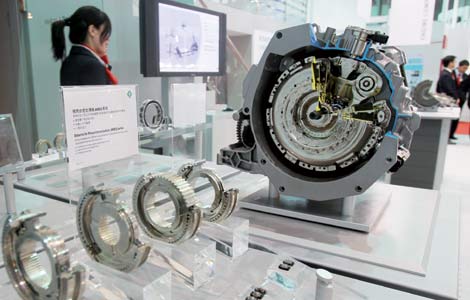 Auto parts are displayed at an expo in Shanghai. Some Chinese spare parts companies have expanded into the overseas markets through mergers and acquisitions. [Photo / China Daily]
Chinese firms gain more clout in global auto parts industry
For a glimpse into how the US auto industry has been dramatically globalized since the 2008 financial crisis, take a look at who Chrysler has been working with lately.
The Michigan-based automaker gets its antennae from Taizhou Suzhong Antenna Group in Jiangsu province. Parts that require rubber are flown in from Zhongding Holding and Ningbo Tuopu Group in Anhui province. Steering system parts? They are from Nexteer, which General Motors Co sold to Pacific Century Automotive Systems Co Ltd - an affiliate of the Beijing government that was formed by the Tempo Group in Zhejiang province - in 2010 for $420 million.
Pan Ren, an engineer at the Chrysler Research and Development Center in Detroit for a decade, has seen the recent changes. He said he noticed that not only are more and more Chrysler spare parts being supplied by Chinese companies, but that many US spare parts manufacturers are being run by Chinese executives.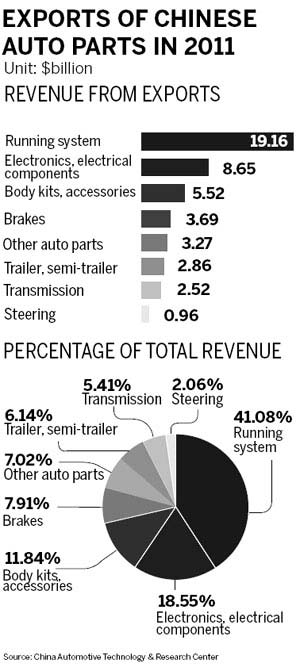 For Pan and for countless observers of the decline of the US and European auto industries, the recent cooperation is not only an indication that Chinese auto parts manufacturers are getting a leg up in the global industry, but that the mergers and acquisitions have been key to fueling an economic comeback for Western countries.
"The machinery industry is the foundation of a country's auto industry, especially the spare parts industry," Pan said.
After the financial crisis of 2008, spare parts companies in the West were on the verge of bankruptcy. Many Chinese auto parts manufacturers that China Daily spoke to saw this crucial time as an opportunity to merge into the global supply chain by acquiring these struggling overseas companies.
There are no statistics available about the number of acquisitions, but many major transactions are notable.
In 2009, Zhejiang Geely Holding Group acquired supplier Drivetrain Systems International, an automatic transmission supplier based in Australia, for A$70 million ($56 million). Last year, Beijing Hainachuan Automotive Parts Co Ltd purchased Dutch company Inalfa Roof Systems Group BV, the world's second-largest auto roof system supplier. In June, Joyson Holdings - a company based in Ningbo, Zhejiang province - bought out German auto parts supplier Preh GmbH.
Ravi Ramamurti, a professor of international business and strategy at Northeastern University in Boston, said that investments from Chinese companies provide a lift for struggling US companies.
"They have the momentum and the financial strength (to rescue other firms)," he said. "The likelihood of a US investor doing the same is dim."
Last year, revenue from Chinese auto parts exports reached 46.63 billion yuan ($7.34 billion), a 27 percent increase from the previous year, according to the China Automotive Technology & Research Center. Because of the growth in exports from China, governments in Europe and the United States have imposed stringent regulations on China's exports of spare parts.
From the beginning of the year, the US government launched several anti-dumping and anti-subsidy probes targeting Chinese exports, largely because trade unions in the US have complained that the increasing exports from China "have stolen thousands of job opportunities" in the US.
Experts said this is part of the reason why Chinese companies have looked to acquisition opportunities in the US and Europe - they want to be exempted from high tariffs.
Wanxiang Group, the largest auto parts supplier by assets in China, was one of the first to get on the mergers and acquisitions trail. As early as 1994, the company established a US unit, Wanxiang America, in Chicago. It has gradually grown into a major supplier of parts to General Motors, Chrysler and Ford. The company has since acquired 27 factories in US states such as Illinois, Michigan and Missouri as of April. It also owns eight factories in Mexico. Last year, Wanxiang America posted revenue of $2.3 billion and employed 5,600 workers in North America.
"There are many opportunities here despite the fact that the economy is sluggish in the United States and Europe," said Ni Pin, president of Wanxiang America. "Especially in 2008 and 2009 when auto assets were underestimated, it was a good time for us to acquire."
The products produced by Wanxiang's factories are sold in both the Chinese and US markets, and Ni is also introducing these companies to the Chinese market, where Wanxiang is obviously familiar with Chinese laws and regulations.
The acquisition of the damper and brake division of Delphi Automotive Plc, a multinational automotive parts manufacturing company headquartered in Michigan, by Beijing West Industries Group is another example of a Chinese company connecting with the global auto supply chain. In late 2009, BWI spent nearly $100 million to acquire assets from Delphi.
"Delphi has global footprints and, by acquiring Delphi assets, we reached customers around the world," said Jeff Zhao, a senior executive at BWI.
One of the first things BWI did after the acquisition was set up a plant in China to produce dampers as well as send groups of engineers from Beijing to Poland, the site of a Delphi damper plant.
"The most valuable asset we have acquired are people," Zhao said, referring to the experienced engineers and managers absorbed from Delphi, many of whom have more than 20 years of industry experience.
BWI now has factories in Poland, the United Kingdom, Mexico, India, and in China in Shanghai and Beijing. Its engineering centers are located in Poland, France, the US, Japan and China. The company's clients include BMW, Audi, Porsche, GM, Honda and Harley-Davidson.
But John Zeng, an executive at LMC Automotive, a research company that tracks the auto industry, said the Chinese spare parts companies will not thrive and catch up with its Western counterparts merely through mergers and acquisitions.
"No companies will sell their advanced technologies to other companies, such as mobile electronics, and what we got are relatively marginal technologies," he said.
Chen Kangren, president of China Auto Parts & Accessories Corp, said at the 2012 China Automotive Forum in April that only 30 percent of the parts, such as the engine and gearbox, are key components and only a few multinationals have the technology to produce these parts.
"The other 70 percent make low-value-added parts and hundreds of thousands of companies are competing for this market. As a result, profits are very slim."
Most Chinese companies fall into this category. In 2011, no Chinese supplier made the world's top 100 spare parts supplier list.
"Now only 5 percent of Chinese companies are first-tier suppliers (for US manufacturers)," Chen said.
John Shen, a partner at Roland Berger Strategy Consultants, said that producing key components is one major sector that Chinese companies need to make better progress in. He disagrees with Zeng and thinks that mergers and acquisitions are actually the wiser approach.
"Some spare parts companies have got clear strategies and gradually gained the distribution networks and brands," Shen said.
Zhao from BWI said the company is trying to improve its competitiveness through various improvements such as trimming costs.
Another issue is that unlike Chinese original equipment manufacturers, or OEMs, which are protected by the government through a regulation that foreign capital cannot exceed a 50 percent share in a joint venture, Chinese spare parts companies don't have this shield and face competition from foreign companies that do not need to link up with a domestic company. Currently, major parts suppliers in the world such as Bosch and Delphi occupy 70 to 80 percent of the market, according to the China Auto Parts & Accessories Corp.
Zeng said the auto spare parts industry depends heavily on domestic OEMs and that they should naturally have a link to domestic carmakers. Growth for Japanese spare parts companies, for instance, is mainly attributed to Toyota, while Bosch has strong ties with German carmakers.
"The local companies should invest more in high-tech areas such as mobile electronics. Since the cost is very high, few spare parts companies are investing in that area, which in turn excludes Chinese OEMs from the core technology," Zeng said.
wangchao@chinadaily.com.cn