Li Ning Co Ltd introduced on Thursday a three-stage transformation program that started with the company CEO stepping down on Wednesday in the sportswear maker's latest bid to cope with challenging market conditions.
Li Ning, company founder, said at a news conference in Hong Kong that it has appointed Kim Jin-goon, a partner of the US private equity fund TPG, as executive vice-chairman. He will lead the group's internal affairs and development.
Li said he will also increase his role and involvement in the company.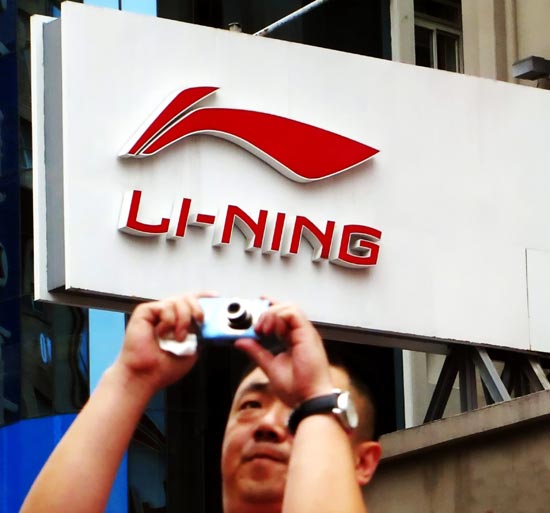 A Li Ning Co Ltd shop in Shanghai. The sportswear company said on July 5, 2012, that Zhang Zhiyong, the company's CEO, has stepped down. [Photo/China Daily] 
Kim said the company's top priority over the next six to 12 months in its first-stage transformation plan will be to clear its inventory. He stressed that the move is already under way and that the company is determined to see it through, even if that leads to a revenue shortage and a fall in its income.
"The company will be aggressive about it (clearing its inventory), but the process could be slower than expected," said Kim.
"This year won't be easy and the profit may not be ideal," he added, admitting the transformation could be painful.
Li Ning issued a profit warning several weeks ago, saying its net profits for this year are expected to see a rather substantial decline as compared with 2011, mainly due to intensified competition within the sporting goods industry, increased discount promotions and strong inventory clearance pressure at the retail level.
Kim said that it will also strengthen its execution capabilities, improve the cost structure of its product and operations, and narrow its priorities to core products and the domestic market in the short term.
Jerry Peng, a research analyst at Guotai Junan International Holdings Ltd, said Li Ning had started a series of campaigns to attract the post-1990 generation, but in reality, Li Ning's customers are around the same age as its 49-year-old founder.
"Its brand positioning is inaccurate, and we hope Kim will be able to bring it back to the right direction."
Peng said he believes Zhang's resignation as company CEO will give the management team more room to implement its transformation blueprint.
Peng also expects Li Ning's net profits for this year to be significantly lower than the market consensus.
"In order to clear its inventory, the company has to offer subsidies and discounts to its distributors or even repurchase inventory," he said, adding that the measures will badly affect its profits.
Li Ning also plans to improve its supply chain and merchandising model next year and in 2014, the second stage of its transformation, Kim said, adding that it will provide more products and consumer experience to solidify its leading position in China's sportswear market.
In its final transformation stage, which is to take place in two to four years, Li Ning is expected to achieve a better profit structure, and higher retail productivity and returns on cash and investment.
Li, who won six medals at the 1984 Los Angeles Olympics, said Zhang's resignation was a decision agreed on between him and the board of directors, a move that is "in the best interests" of the company's future.
Li Ning's shares rose 7.25 percent to HK$4.96 (64 US cents), as the benchmark Hang Seng Index rose 0.5 percent. They have shed half their value since a mid-March peak.
TPG invested around 561 million yuan ($88.25 million) in Li Ning through convertible bonds in January, and it acquired a 5-percent stake in the existing shares of the company from a family trust.
Kim said TPG will decide whether to increase its stake in Li Ning when the sportswear firm needs to raise money again.
sophiehe@chinadailyhk.com