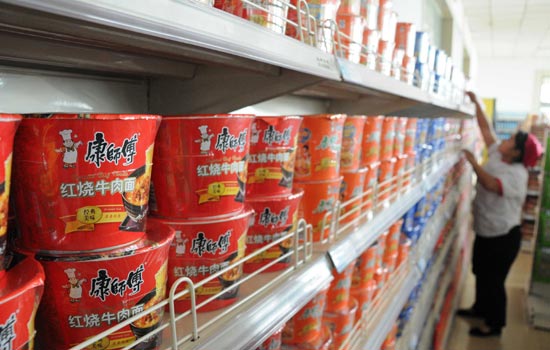 Master Kong instant noodles on display at a supermarket in Binzhou, Shandong province. A survey showed that Chinese customers don't stick with one brand when shopping for goods they buy most frequently. [Photo/China Daily]
Cookies, tissues, detergents draw least allegiance from customers
Pacing around the personal care section of a supermarket, Li Weili had difficulty deciding which brand of detergent she wanted.
Suddenly, a package bearing the words "buy one and get one free" caught her eye, and she put it in her cart.
"I was overwhelmed by the number of brands on the shelf," said Li, 55. "The simplest thing to do was to go with the one that had a deal on it."
Li is not the only shopper who has struggled to choose a brand when shopping for daily necessities. According to a recent survey, Chinese consumers exhibit little brand loyalty toward goods that tend to be used up quickly, even though they buy such goods frequently.
The study, named the 2012 China Shopper Report, was conducted by Bain & Company, an international business consulting firm, and Kantar Worldpanel, a provider of consumer research, and dispels several misconceptions about how Chinese shoppers respond to product brands.
The researchers in the study divided shoppers' behavior into two categories, calling them loyalist and repertoire. Interviewing shoppers from 40,000 households in urban China, they found that the vast majority of shoppers tend to exhibit repertoire behavior, meaning they don't stick with one brand when shopping for the goods they buy most frequently.

Shoppers showed the least loyalty to individual brands of cookies, fabric detergent, juice and facial tissue.
The findings also suggested that Chinese customers tend to not be entirely forthcoming when talking about their shopping habits.
More than 60 percent of the respondents said they first look at brands when trying to decide what products they want to buy. But, when it comes to making a purchase, other considerations take on greater importance, the study said.
"Marketers must pay attention to what Chinese shoppers do, not what they say in the survey," Bruno Lannes, partner of Bain & Company, said in Beijing on Thursday.
"Otherwise, they risk spending money on trying to drive behaviors that simply are not possible in this market."
The survey looked at the 26 categories of consumer goods that are most commonly sold in China, including packaged foods, beverages and personal care and home-care products. Barcode scanners were used to track the respondents' purchases.
"Chinese shoppers are pampered by having an abundance of brand choices," said Jason Yu, general manager of Kantar Worldpanel China. "Hence it is increasingly difficult for big brands to stand out from the clutter.
"It is essential for marketers to understand the nature of the categories they are competing in and make the right growth plans."
Lannes said brands that are likely to enjoy the least loyalty should run TV commercials inside stores and use similar methods to remind shoppers of their products.