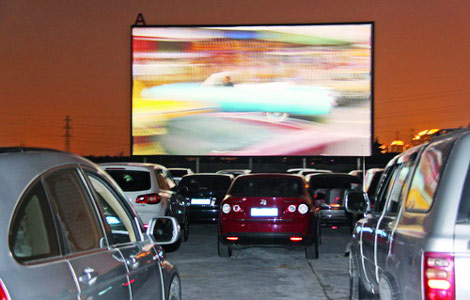 The recently opened Griffin Drive-in Theater in Shanghai, which fits in about 150 cars, Provides entertainment until 4 am. [Photo/China Daily]



A quaint form of entertainment that was dreamed up 80 years ago refuses to die, Li Xinzhu reports in Shanghai.
In an age of 3D films, DVDs and high-definition screens you could be forgiven for thinking that drive-in movie theaters had gone the way of the dinosaur. It can be happily reported that not only are drive-in movies alive and well 80 years after their birth, but that they are faring rather well in at least a few places far from their American birthplace. A drive-in theater that opened in the Pudong district of Shanghai last month has attracted a huge amount of interest and provided movie goers with a novel experience that has a distinct retro feel about it. Griffin Drive-in Theater, which covers more than 10,000 square meters, enough space for about 150 cars, is run by Beijing Griffin Film and Television Culture Media Company. Two steel truss structures hold the screen, which is about 20 meters long and 12 meters wide.
"It was a unique film watching experience," said Tang Hongjie, 28, who works for an immigrant consulting company in Shanghai, and who said he had seen drive-in theaters many times in American movies.
"So I borrow a car from my friend immediately after I heard the news."
The managers say business is brisk, particularly at weekends, with full houses being reported, particularly between 7 pm and 10 pm.
Zhu Xiaodong, 29, deputy manager, said the sheer numbers in Shanghai bode well for the theater.
"Shanghai has millions of cars and more than 20 million population. It is a great market."
In the three weeks after the theater opened on May 18, Zhu said, several minor changes were made based on the feedback from the audiences.
"Shanghai people prefer to watch movies with original soundtracks, so we replaced all dubbed versions as soon as that became clear to us."
"We expect other business partners to join us, so we will be able to have a complex commercial zone in the future."
As with other movie theaters, patrons can indulge their taste buds with food and beverages bought from a small shop or with roast lamb and beef from a barbecue stall.
The outside area of the theater is a bit shabby and muddy, especially when it rains, but Zhu said there are plans to improve the surroundings step by step.
But rain or shine, Zhu said, the theater can still provide high-quality movies. And even if it does rain, he said, all that means is that "the wipers might be a bit busy. Some young people think it feels more romantic to watch a movie in the rain."
The competition between cinemas in Shanghai is stiff because there are more than 90 cinemas in the city, Zhu said. "We could barely find a place to run another cinema, so we decided to do something different.
"If the business is good we will soon open another drive-in theater However, the land and location is crucial. We could put up a screen for 3D movies and one for iMAX 3D movies in a bigger place in he future."
Drive-in theaters were highly popular in the US, particularly in rural areas, in the 1950s and the early 1960s.
One advantage that the drive-in format has over the traditional cinema is that you can chat freely with those sharing the car with you, and you can use toilets without the embarrassment of making dozens of people stand up in the darkness to let you out.
But there are drawbacks, too. To watch a movie in a drive-in theater you need to turn on the ignition because the soundtrack needs to be picked by the car radio, and in summer or winter the air conditioning needs to be switched on.
Those drawbacks are apparently not enough to put off Zhang Peng, 33, who works for a wine dealer. "I think it is a great place to enjoy yourself," she said.
But not all are convinced of the attractions, personal or commercial, of drive-in theaters.
"We looked at opening a drive-in theater, but we shelved the plan after doing market research," said Shen Qiang, director of business operations with Shanghai Film Center, one of the big cinemas in the city.
"I don't think a drive-in theater business can work. The sound quality cannot be guaranteed with a car's audio system, and space in a car is limited."
Developing traditional cinema is still the accepted way of doing things, Shen said, adding that a new cinema from Shanghai Film Center is being built in the city's Baoshan district.
"If a drive-in theater wants to succeed, it needs to build a kind of social network to connect certain types of people. There is no way that the business can rely on individuals."
Shen said the ticket price in drive-in theaters is also prohibitive, because group-bought cinema tickets cost 35 to 50 yuan ($5.50-7.90) per person in conventional cinemas, but 150 yuan in their drive-in counterparts "Why would anyone spend more money and drive a long way to see a movie?"
An industry insider who asked to remain anonymous said the great success of Beijing Maple Drive-in Theater, said to be the first drive-in theater in China, cannot be replicated in Shanghai.
"People in Shanghai prefer a relatively comfortable environment as they watch movies. That's why a lot of money has been poured into the facilities in cinemas. People may well go to drive-in theater once or twice, but eventually they will be back sitting in a cinema."
Contact the writer at lixinzhu@chinadaily.com.cn