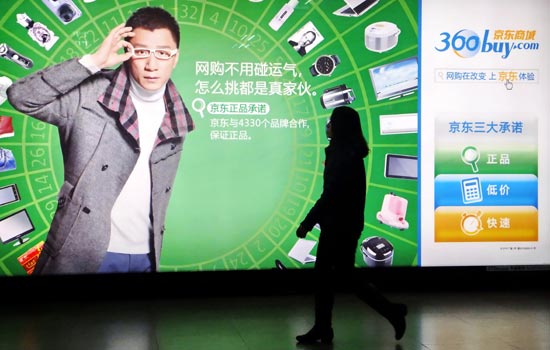 An advertisement for e-commerce company 360buy.com in Shanghai. All major online retailers are offering large discounts and rebates to users to attract customers and gain an upper hand in the market. [Photo/China Daily] 
It's a summer of competition everywhere. While a soccer championships in Europe arouses spectators' enthusiasm, Chinese e-commerce websites are waging a battle of their own for consumers' eyeballs as they fight a price war.
Almost all of the top 10 e-commerce players are offering large discounts and rebates to users, part of their effort to attract customers and gain an upper hand in the market.
On Monday, the battle came to a climax. To celebrate its anniversary, Beijing Jingdong Century Trading Co, which runs 360buy.com, offered discounts worth 1 billion yuan ($157.3 million) for purchases in June.
At the same time, Tmall.com, the largest business-to-consumer website in China, gave users "red-pocket money" worth 40 million yuan to encourage purchases from June 15 to 18.
Since May, it has also provided 300 million yuan in rebates for vendors and buyers of electronic products.
Home appliance retailer Suning Appliance Co, a smaller competitor, said it would offer rebates of whatever users spent from June 18 to 22, to be used for future purchases.
The anniversary of 360buy.com comes at a key time for e-commerce, with players engaged in cut-throat competition for market share.
"The price war is very likely to be a practice for e-commerce companies for a long time to come as online shoppers like low prices," said a company official of Suning, who preferred not to be named.
Price wars have become the norm for e-commerce players, but the tactic has added to their financial burdens, and most of them remain in the red.
360buy.com, for example, had a net loss of more than 1 billion yuan last year, doubling the previous year.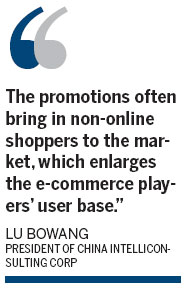 However, "the promotions often bring in non-online shoppers to the market, which enlarges the e-commerce players' user base," said Lu Bowang, president of China IntelliConsulting Corp, a market research company.
Compared with online ads, which mean a company usually has to spend 100 yuan to get a new user, promotions of this kind are more cost-efficient, he added.
E-commerce companies that have failed to break even are taking other approaches to improve their performance.
E-commerce China Dangdang Inc, which started out selling books, has recently introduced its own brand, which features products with fatter profit margins. It has recorded losses of more than 300 million yuan since the second quarter of 2011, according to its financial reports, partly due to aggressive price-cutting.
As of Monday noon, sales of laptop computers on Tmall had increased by 600 percent, compared with a week earlier, with sales of cameras up 300 percent, during its promotion, according to figures provided by the company.
Tmall will offer further rebates to users and vendors in the second half, said Yan Qiao, public relations manager of the company.
Tmall dominated China's business-to-consumer market, with a 37.4 percent share in the first quarter, followed by 360buy.com's 17.2 percent and Suning's 2.4 percent, according to domestic research company Analysys International.
chenlimin@chinadaily.com.cn