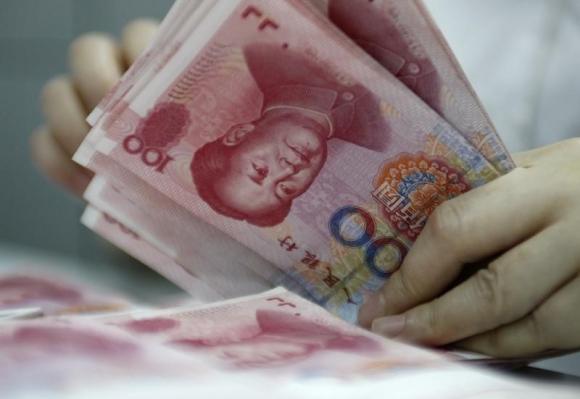 An employee counts yuan banknotes at a bank in Huaibei, Anhui province June 22, 2010.[Photo/Agencies]
WASHINGTON -- The Executive Board of the International Monetary Fund (IMF) recently approved the extension of the current special drawing rights (SDR) valuation basket by nine months from Dec 31, 2015 to Sept 30, 2016.
"The nine-month extension is intended to facilitate the continued smooth functioning of SDR-related operations," said the IMF in a statement on Wednesday. The current SDR valuation basket is set to expire on Dec 31, 2015.
The extension responses to feedback from SDR users on the desirability of avoiding changes in the basket at the end of the calendar year, and will allow users sufficient lead time to adjust in the event that a decision were to be taken to add a new currency to the SDR basket, said IMF.
The IMF reviews the currencies in the SDR basket every five years, and whether to add the Chinese currency, renminbi, to the basket is a major issue for this year's assessment. This year's review is expected to be completed in November 2015 when the IMF board will decide whether the yuan will be included in the SDR basket or not.
Early this month, the IMF staff proposed in a paper to extend the current SDR valuation basket till Sept 30, 2016, saying that it's not easy for SDR users to rebalance their reserve holdings on Jan 1 and that SDR users also need more time to rebalance their positions if a new currency is included in the basket.
The IMF reiterated in the statement that the approved extension of the current basket does not in any way "prejudge the outcome of the Review of the Method of Valuation of the SDR."
The IMF on Wednesday declined to comment on China's recent move to improve its central parity formation system.
The IMF said last week that China's move has no direct implications for the criteria used in determining the composition of the basket. But it added that a more market-oriented exchange rate would facilitate SDR operation in case the yuan were included in the basket going forward.
An IMF senior official said last Friday that China's move to link the yuan's value to market forces is an encouraging step toward a flexible floating exchange rate system. He expected China to further widen exchange rate trading band in the future.
The SDR was created in the 1960s as an international reserve asset that IMF members can claim in times of need. Currently, there are only four currencies in the SDR basket, namely the US dollar, the euro, the British pound and the Japanese yen.