Competition among luxury hotels is becoming increasingly fierce in China and is now moving into second and third tier cities, said Vlad Reyes, general manager of the Conrad Dalian and Hilton Dalian.
"We are improving our presence in China's second and third cities by providing diverse services in our new hotels," Reyes says.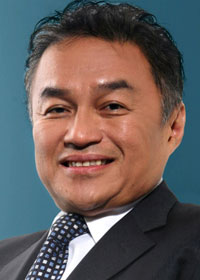 Vlad Reyes, general manager of the Conrad Dalian and Hilton Dalian
The Hilton Dalian, the hotel chain's third property in China's northeast region, and the Conrad Dalian, its first urban hotel on the Chinese mainland, both opened on Feb 25.
Dalian has long been a major shipping and trade center in Northeastern Asia and is now an emerging venue for prestigious international events such as the Davos Forum.
"The city's rising status in international economic and trade circles offers us huge opportunities and we aim to be a landmark hotel property in Dalian," says Reyes.
The Conrad and Hilton operations are in the same building in Dalian's rapidly emerging and vibrant East Harbor district. They offer a choice for guests who demand smart luxury and premier business hospitality.
The hotels have hosted some 15 weddings, a launch ceremony for a new BMW model, an international fashion show and other big events since opening in February, says Reyes.
The hotels also received a growing number of domestic and overseas guests.
"Most international guests are business people," Reyes says.
Of the guests, more than 21 percent were from Japan with the remainder from the US, Hong Kong and South Korea.
The 14th Hilton Hotels & Resorts property in China features a design that merges elements of Dalian's local culture with Conrad's distinctive approach to individual luxury, Reyes says.
"It is vital for Hilton Worldwide's growth strategy in China to play a major role here and for our properties themselves to become key destinations for discerning travelers from China and around the world," says Martin Rinck, president of Hilton's Asia Pacific region.
"We constantly strive to blend Hilton Hotels and Resorts' innovative ideas and global management experience with local culture. With the growth of Dalian as one of the newest and most promising coastal economic zones in China, we are keen for the Hilton Dalian to continuously develop and provide guests with a contemporary and personalized experience set in world-class facilities," Dave Horton, global head of Hilton Hotels and Resorts says.
qiuquanlin@chinadaily.com.cn