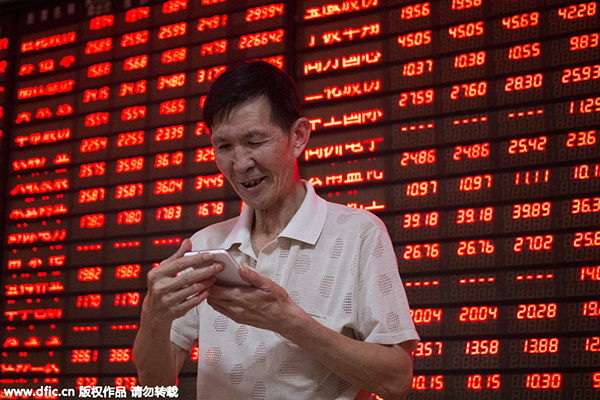 An investor check his gain via his smartphoneat a brokerage house in Nanjing, Jiangsu province, Aug 10, 2015. [Photo/IC]
Since early August, 14 public companies have received approval from China Securities Regulatory Commission (CSRC) for follow-on offering, signaling the end of month-long suspension of issuance of new shares. The 14 companies plan to raise 25.24 billion yuan in this round of refinancing. A total of 51 public companies have filed for refinancing proposals, pending approval, to raise over 164.4 billion yuan ($25.7 billion) in August.
Recent devaluation of yuan has already put liquidity pressure on the Chinese stock market and new capital entering the stock market has been limited. Under these circumstances, restart of approval of issuance of new shares will exert more pressure on stock market, and drag down the index.
After series of easing measures, including suspension of follow-on offering and IPOs, Chinese stock market rebounded 20 percent since it bottomed at 3300 on July 9. However, the market has not show high level of optimism it used to display after government intervention. Liquidity concerns loom large over the stock market, as market stabilized government will slow and stop the easing measures and recently devaluated yuan will drive hot money out of stock market.
Huadian Power International Corp Ltd filed for the biggest follow-on offering among these 51 companies with plans to issue 1.41 billion new shares to raise 71.47 billion yuan.
Media and investors are concerned whether the resumption of follow-on offering is signaling the reopening of IPO, according to Xie Guoming, an investment advisor at China Merchant Securities. CSRC is satisfied with current market performance and confident about stock market's ability to handle restart of refinance.
Approval of follow-on offering and IPO is inevitable, after all, the stock market is the place for companies to get financing, said Xie Guoming. If the regulatory agency can carefully manage the quantity and quality of refinancing, the impact on stock market will be limited.