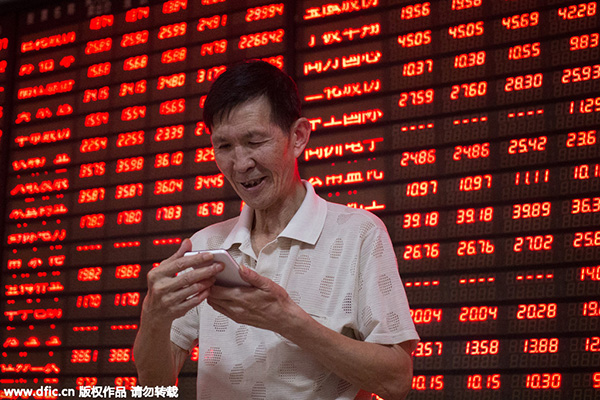 An investor check his gain via his smartphone at a brokerage house in Nanjing, Jiangsu province, Aug 10, 2015. [Photo/IC]
Amid speculation authorities will overhaul State-owned enterprises (SOEs) to promote efficiency, stocks rose on Monday, with the benchmark Shanghai index surging 4.9 percent.
The Shanghai Composite Index closed at 3,928.42, up 184.21 points, marking its biggest increase in a month, while the Shenzhen Component Index gained 4.3 percent to 13,302.96.
The rally came as the South China Morning Post citing inside sources said that State Council has approved long-awaited SOEs reform to put a greater distance between government and their day-to-day commercial operations.
The shake-up will include setting up two new Temasek-style sets of companies that will channel funds to SOEs and pressure them to turn a profit, said the newspaper on Saturday. Temasek is Singapore's sovereign fund investment company with a broad portfolio.
SOEs led the gain on Monday, as firms previously under reform speculation such as Jilin Power Share Co, Luoyang Glass Company, China National Pharmaceutical Group Corp and COFCO Biochemical jumped by the daily limit of 10 percent.
State firms including Aluminum Corp of China (Chinalco), China Spacesat Co, China Unicom, China Coal Energy Co and China Railway Group all surged by 10 percent.
Under the new system, SOEs will be able to make more of their own business decisions and their board of directors will be able to make manager-level hirings, according to the Post.
"State-owned capital operating companies" would allocate state funds to monopolistic SOEs in mission-critical sectors, and mainly manage SOEs' stock rights rather than directly run market-driven industries.
Party leadership sent by the State-owned Assets Supervision and Administration Commission to SOEs remains unchanged, said the newspaper.
Brokerages climbed on Monday, with CITIC Securities, West Securities and Dongxing Securities advancing by 10 percent. Everbright Securities and Founder Securities gained more than 7 percent.
The CSI 300 Index edged up 4.5 percent to 4,084.37 at the close.