Nokia company set to cut 10,000 jobs globally, but local impact unclear
Worldwide job reductions by Nokia Oyj will lead to the adjustment of its operations in China, but analysts have cast doubt on whether the company's aggressive move can eventually bear fruit in the country and other parts of the world.
Nokia will cut 10,000 jobs, or 19 percent of its total workforce, by the end of next year, it said on Thursday. This is part of an overhaul of its declining business, which also includes the closure of two research centers and a factory, and the departure of three senior executives.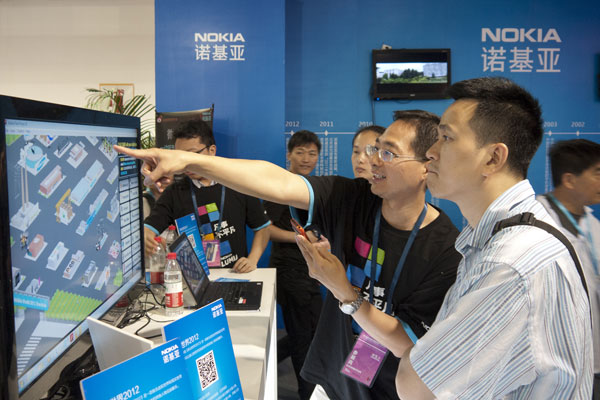 A Nokia staff member introduces an application to a visitor at an exhibition in Beijing on May 23, 2012. [Photo/chinadaily.com.cn] 
"We will focus on our core strategy, and the worldwide adjustment will also include China," said Gao Xiang, Nokia's director of public relations in China, without elaborating.
Once arguably the world's mobile phone leader, Nokia has been overshadowed by Apple Inc and other mobile phone makers running Google Inc's Android operating system, leading to a sharp drop in sales and four straight quarterly losses.
In the first quarter, the company's net sales to China, its fourth-largest market, fell 70 percent year-on-year.
Wang Ying, an analyst with domestic research company Analysys International, said she expected China to reduce the headcount at its Symbian-related business.
The company has been trying to phase out its homegrown Symbian operating system, with the latest move being the formation in February last year of an alliance with Microsoft Corp to provide Lumia, a line of smartphones that run the Windows operating system.
However, the introduction of the new phone failed to offset the decline of its main business. Its total mobile phone shipments dropped 24 percent in the first quarter, which enabled Samsung Electronics Co to overtake it as the world's biggest mobile phone maker.
In China, Samsung sold the most smartphones during the same period, claiming almost a quarter of the market, followed by Chinese counterpart Huawei Technologies Co, with about 12 percent, according to Analysys International. Nokia ranked third with 11 percent.
"It is unlikely that Lumia can report large sales in the short term, as it doesn't have breakthrough improvements that can win back users," said Sandy Shen, an analyst with Gartner Inc.
Wang from Analysys International agreed.
"It's not the handset itself, but the operating system and the applications in it that really matter. An increasing acceptance of Lumia needs more mobile phone makers to adopt the Windows operating system and more developers to make applications for it," she said.