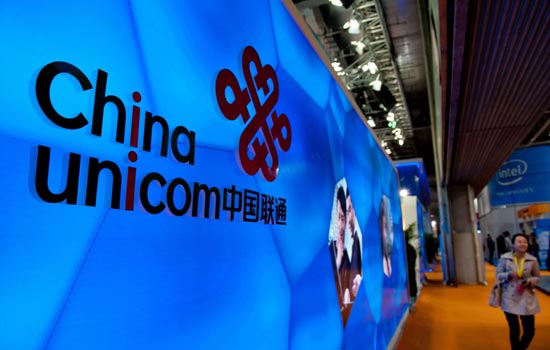 A China United Network Communications Ltd (China Unicom) booth at a trade show in Chongqing. Spain's Telefonica SA is selling its 4.56 percent stake in the Chinese company to accelerate repayment of 57.1 billion euros ($72 billion) in debt. [Photo/China Daily]
Shares in China Unicom up for sale by Spain's Telefonica
Chinese telecom companies will encounter difficulties in Europe in the short term because of economic uncertainties and political risks, analysts said.
The eurozone debt crisis is already having a negative impact on the global telecom industry. Telefonica SA, the biggest telecom company in Spain, said on Sunday it would seek to sell a 4.56 percent stake in China Unicom (Hong Kong) Ltd to its parent company for about $1.41 billion in hopes of reducing debt.
Just three months ago, Cesar Alierta, chief executive officer of Telefonica, told reporters during Mobile World Congress 2012 that he wanted to keep the China Unicom stake "forever" as it was a long-term strategic alliance.
However, Telefonica must accelerate repayment of 57.1 billion euros ($72 billion) in debt. Standard & Poor's lowered the Madrid-based company's rating last month.
On Sunday, China Unicom held a shareholder meeting in Beijing to ask for agreements on the stock buyback. "We can tell Telefonica is desperate for money. China Unicom organized the meeting in a hurry and informed us Telefonica had determined to sell the stake," a source familiar with the matter told China Daily.
"People in China Unicom said they had to repurchase the shares, otherwise the share price would slide," the source added.
China United Network Communications Group Co, the parent company of the Hong Kong-traded operator, will buy 1.07 billion shares using cash, at HK$10.21 ($1.31) each, the Beijing-based company said in a statement on Sunday.
Pending regulatory approval from Chinese authorities, the deal is expected to close before July 31, it said.
"The transaction may result in some pressure on the parent company's cash flow," said Qi Ning, a telecom analyst at China Investment Securities. But the stock price of China Unicom is at a historic low, so it's worthwhile for investment, Qi said.
However, China Unicom did post a book loss related to its 1.37 percent stake in the Spanish operator Telefonica, said Serena Li, a research analyst at Guotai Junan Securities (Hong Kong) Ltd.
Telefonica's shares have fallen fast in recent months, with foreign investors increasingly reluctant to hold large stakes in firms listed in crisis-hit Spain, she added.
For China Unicom, whose business is still mostly domestic, the effect from European market turbulence may be limited.
Chinese telecom gear makers, such as Huawei Technologies Co Ltd and ZTE Corp, could face heavier blows, said Roger Sun, an analyst at Guotai Junan Securities.
The European market is one of the largest overseas markets for ZTE and Huawei, since both face restrictions in entering the profitable North American market because of security concerns.
The eurozone debt crisis poses short-term challenges for Huawei and ZTE because European telecom carriers will cut their expenditure in the near future, which directly affects revenues earned by the Chinese companies' European branches, according to a research note from Sinolink Securities.
"For example, ZTE wants to improve its profitability by lifting mobile phone gross profit margins, but the target is unlikely to be realized in Europe now," said Sun.
Meanwhile, political risks are on the rise for Chinese companies doing business in Europe. The European Union was set to launch a major trade case against Huawei and ZTE, arguing that they have benefited from illegal government subsidies and sold products in the EU below cost, the Financial Times said.
Both ZTE and Huawei have denied the charges.
Huawei declined to comment on the effect of the eurozone debt crisis on the company.
ZTE said the growth of its European branches remains in line with the company's expectation and risks in Europe are under control, He Shiyou, executive vice-president of ZTE, said on Friday.
shenjingting@chinadaily.com.cn