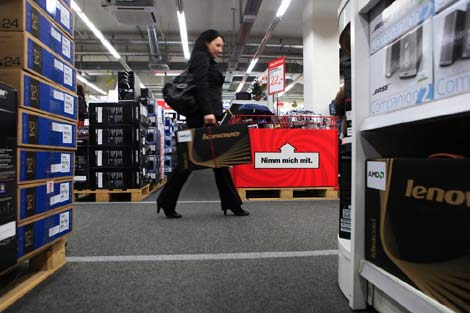 A shopper purchases a Lenovo Group Ltd computer at a Medion AG consumer electronics store in Germany. Lenovo's sales in developed economies increased from January to March by 85 percent year-on-year, reaching $3.4 billion. [Photo / China Daily] 


Technology giant reports record-high net profit growth rate in latest fiscal year
Lenovo Group Ltd, a Chinese maker of personal computers, became the fourth-largest maker of tablet PCs in the world measured by market share in the last quarter of its 2011 fiscal year, the company announced on Wednesday.
It also reported having a record-high annual net profit growth rate of 73 percent, bringing it closer to its US rivals Hewlett-Packard Corp and Apple Inc.
For its entire 2011 fiscal year, Lenovo said it had $29.6 billion in sales. During that time, it commanded 12.9 percent of the global market for the types of products it makes, making it the second-largest PC producer and fourth-largest tablet PC producer measured by market share.
That brought its market share to within 2 percentage points of HP's, up from the 9 percentage-point difference seen in its 2010 fiscal year, according to the IT research company International Data Corp.
Also in the fiscal year, the company saw its sales revenue increase by 37 percent year-on-year.
As for the last quarter, Lenovo saw 39 percent of its sales revenue come from China.
Its sales increased by 22.7 percent year-on-year in China in the same period, while they increased by 81 percent in mature markets such as the United States and Japan, which contributed about 45 percent of the company's global revenue.
China is home to 512 million Internet users, a figure that has increased by 278 percent from 2005 and that now surpasses the number of users in the United States, according to the China Internet Network Information Center.
After forming a joint venture with the Japan-based NEC Corp, a provider of IT products and services, and buying the German consumer electronics maker Medion AG, Lenovo's sales in developed economies increased from January to March by 85 percent year-on-year, reaching $3.4 billion. Lenovo is the largest PC brand in Japan measured by sales.
The company attributed its performance to its Internet mobile devices, including tablet PCs and smartphones. Lenovo's tablet PCs, such as the ideaPad, held 17.2 percent of the Chinese market for such products in the last quarter of the company's fiscal year.
"A year before, Lenovo had ranked eighth in the global market for tablet PCs, but now it is behind only Apple, Samsung and Amazon," said Wang Jiping, a senior analyst at the US-based IT research company IDC Asia-Pacific.
Liu Jun, Lenovo senior vice-president and president of the company's Mobile Internet and Digital Home Business Group, said the company's revenue from sales of smartphones increased about 11-fold in the past year. Within the two years leading up to March, its market share for smartphones increased from about 2 percent to 10 percent.
"We expect sales of smartphones to increase by 300 percent by the end of this year, and our tablet PC products to hold about 20 percent of the market," said Liu.
tuoyannan@chinadaily.com.cn